Above: 5 years of service: Pat Turney, Monica Wayne, Norma Jean Milner, Catherine Warner, Marge Saban, Betty Hallman, Verdell Jones.
On June 14, the Allegheny County Department of Human Services Area Agency on Aging (DHS/AAA) hosted its Senior Companion Program Recognition Luncheon at the Edgewood Country Club in Churchill. The annual event recognizes and honors the Senior Companions who provide countless hours of caring services to as many as 500 isolated older adults each year throughout Allegheny County.
Senior Companions are volunteers ages 55 and older who provide in-home companionship visits to seniors who are homebound, frail or have other special needs. "The goal of the program is to offer support that allows the older adult to remain living independently at home," explains John Miller, program manager.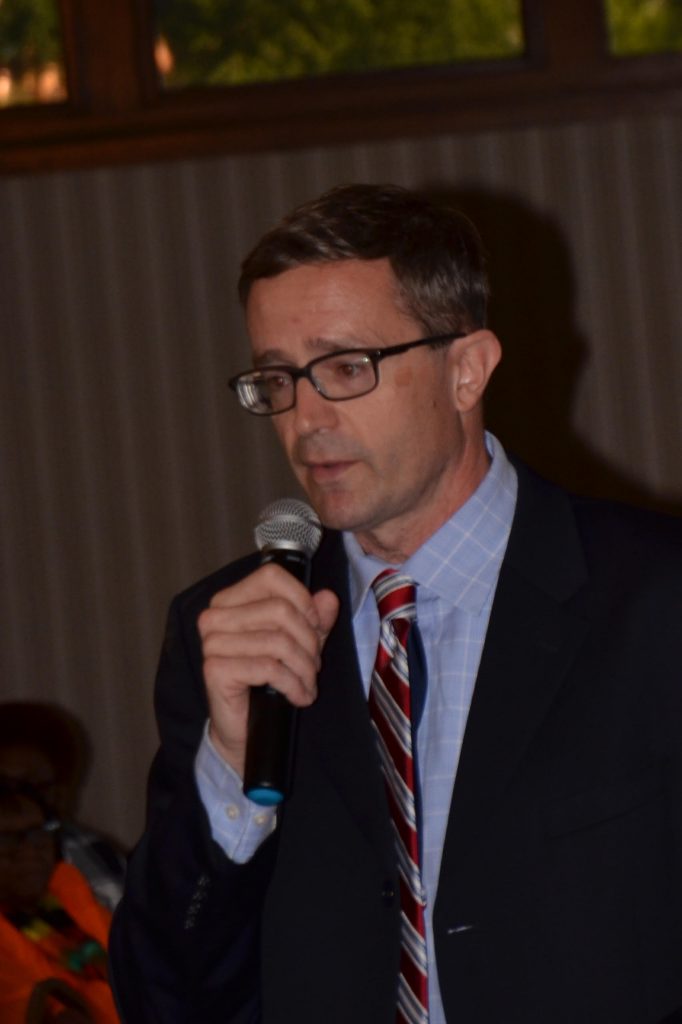 John served as master of ceremonies for the luncheon. Along with Care Coordination division chief Brendan Hanley, he gave opening remarks, welcomed the Senior Companions in attendance and thanked them for their service. John also highlighted how the Senior Companions serve as a source of inspiration in helping older adults maintain their independence.
Cindy Speck, a ventriloquist from Zelienople, entertained the crowd before a delicious lunch was served.
After recognition of the program's advisory council members, the "milestones of service" awards were given to the following recipients:
Highest hours of service:
• Gurung, Chitra (1,277 hours)
• Cottrell, Pat (1,251 hours)
• Davis, Cynthia (1,248 hours)
• Sizemore, Janet (1,238 hours)
• Woodson, June (1,221 hours)
• Eunice Nelson (1,283 hours)
• Cecilia Horne (1,303 hours)
• Gwen Barr (1,390 hours) • Pam Liddell (1,507 hours)
• Ken Lawson (1,564 hours)
• Leonid Berman (1,579 hours)
• Ceola Melvin (1,702 hours)
• Lola Stanley (1,743 hours)
• Nancy Stewart (1,828 hours)
• Shirley Marshall (1,975 hours)
Five years of service:
• Hilda Arture
• Pat Cottrell
• Chitra Gurung
• Betty Hallman
• Verdell Jones
• Norma Jean Milner
• Marge Saban
• Pat Turney
• Catherine Warner
• Monica Wayne
10 years of service:
• Shirley Griffin
• Julia Hazlip
• Shirley Marshall
• Lorraine Meskowski
15 years of service:
• Lidia Acierno
• Rose Rouse
• Elizabeth Turner
20 years of service: Mary Lawrence
25 years of service: Dorothy Pisano
In total, the program has 105 Senior Companion volunteers who are placed at 15 partner agencies throughout the county.
The Senior Companion Program is currently seeking compassionate people to serve as volunteers, especially in the following neighborhoods:
North Hills:
*Bellevue/Avalon/Ben Avon
*Indiana Township
*McCandless Township
*Millvale/Etna/Sharpsburg
*O'Hara Township/Blawnox
*Reserve Township
*Ross Township
*Shaler Township
*West Deer/Frazer/East Deer
South Hills:
*Baldwin/Brentwood/Whitehall
*Bethel Park
*Castle Shannon
*Dormont
*Pleasant Hills/Jefferson Hills
*Scott Township
*South Fayette/Bridgeville
*South Park
West Hills:
*Carnegie/Heidelberg
*Findlay/North Fayette/Oakdale
*Imperial
*Moon/Coraopolis/Kennedy
*Robinson Township
For more information about Senior Companions or to apply, call (412) 350-4061 or email John.Miller@AlleghenyCounty.US.