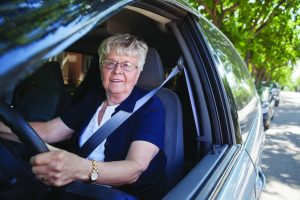 For most of us, driving a car is second nature—but as we age, it's a smart idea to revisit safe-driving habits that may seem routine. The first page of this section offers driving tips and special information for older drivers. How do you know when it's time to stop driving? We cover tips for making this major decision on the next page. Deciding to no longer drive is not the end of your freedom, however; our county offers many alternatives to get where you need to go. We present these services on pages 108-111. Buckle up and be safe!
Mobility Works
(412) 824-8091
mobilityworks.com
Rents and sells new and used handicap vans with wheelchair ramps or lifts designed to accommodate special needs. Visit this website for a list of national owner-operated dealerships that participate in this network.
Handicap Parking
Pennsylvania Department of Transportation
(800) 932-4600
dmv.state.pa.us
Special parking placards and license plates are available for those with disabilities. To apply for a placard or plate, the form must be filled out by a physician and notarized. There is no fee for the placard; however, there is a $11 charge for a special plate. Forms can be obtained by calling PennDOT or can be downloaded at dmv.state.pa.us/registration/pwd_plate.shtml.
Retired Status Motor Vehicle Registration
Pennsylvania Department of Transportation
(800) 932-4600
dmv.state.pa.us
Eligible applicants, regardless of age, must be retired and receiving Social Security, SSI payments, retirement benefits or other pensions and annuities. The total income from all these sources must not exceed $19,200. To be eligible for the retired status processing fee, the vehicle must be titled and registered in the person's name. If the vehicle is registered jointly, at least one of the registrants must meet the requirements above. The qualified person must be the principal driver of the vehicle unless physically or mentally incapable of driving. Only one vehicle per person may be registered for the $10 processing fee. Forms are available at notaries, tag agencies and dealerships, by calling PennDOT or visiting dmv.pa.gov/VEHICLE-SERVICES/Title-Registration/Pages/default.aspx.
Wheelchair Getaways
(800) 642-2042
wheelchairgetaways.com
Wheelchair Getaways provides wheelchair accessible van rentals for people with disabilities, as well as scooter and power wheelchair rentals, and GPS rentals.
Drive with Care
Always —
• Plan your trips ahead of time. Decide what time to leave and which roads to take. Try to avoid heavy traffic, poor weather and high-speed areas.
• Wear your seat belt and wear it correctly. (It should go over your shoulder and across your lap.)
• Drive at the speed limit. It's unsafe to drive too fast or too slow.
• Be alert; pay attention to traffic at all times.
• Keep enough distance between you and the car in front of you.
• Be extra careful at intersections. Use your turn signals and remember to look around for people and other cars.
• Check your blind spot when changing lanes or backing up.
• Be extra careful at train tracks. Remember to look both ways for trains.
• When you take a new medicine, ask your doctor or pharmacist about side effects. Many meds can affect your driving even when you feel fine.
Never —
• Drink and drive.
• Drive when you feel angry or tired. If you start to feel tired, stop your car somewhere safe. Take a break until you feel more alert.
• Eat, drink or use a cell phone while driving.
If —
• If you don't see well in the dark, try not to drive at night or during storms.
• If you have trouble making left turns at an intersection, make three right turns instead of one left turn.
• If you can, avoid driving in bad weather such as rain, sleet or snow.
Take Care of Your Car
• Make sure you have plenty of gas in the tank.
• Keep windshields and mirrors clean.
• Keep a cloth in your car for cleaning windows.
• Replace your windshield wiper blades when they become worn out.
A Guide to Talking With Older Drivers
The Pennsylvania Department of Motor Vehicles has a very useful booklet called Helping Older Adults Stay Safe: A Guide for Family and Friends that helps family members and friends know when and how to get involved in an older person's decision on whether to continue or modify their driving. The booklet can be downloaded online. Go to dmv.pa.gov/Driver-Services/Mature-Drivers/Pages/default.aspx.
When to Stop Driving
We want to continue driving as long as we can do so safely. For many of us, however, the time may come when we must limit or stop driving—either temporarily or permanently. The following advice may be able to assist you or a loved one in making this decision.
What are the warning signs when someone should begin to limit driving or stop altogether?
• Feeling uncomfortable, nervous or fearful while driving.
• Dents and scrapes on the car or on fences, mailboxes, garage doors and curbs.
• Difficulty staying in the lane of travel.
• Getting lost.
• Trouble paying attention to signals, road signs and pavement markings.
• Slower response to unexpected situations.
• Medical conditions or medications that may affect your ability to handle the car safely.
• Frequent "close calls" (almost crashing).
• Trouble judging gaps in traffics at intersections and on highway entrance/exit ramps.
• Other drivers honking at you and instances when you are angry at other drivers.
• Friends or relatives not wanting to drive with you.
• Difficulty seeing the sides of the road when looking straight ahead.
• Easily distracted or having difficulty concentrating while driving.
• Having a hard time turning around to check over your shoulder while backing up or changing lanes.
• Frequent traffic tickets or warnings by traffic/law enforcement officers in the last year or two.
If you notice one or more of these warning signs, you may want to have your driving assessed by a professional or attend a driver refresher class (see listing next column or download the booklet mentioned above, which lists more driver refresher courses). You may also want to consult with your doctor if you are having unusual concentration or memory problems, or other physical symptoms that may be affecting your ability to drive.
Source: AARP.org.
AARP Driver Safety Program
(888) 227-7669
aarp.org
The AARP Driver Safety Program is the nation's first and largest classroom refresher course for drivers ages 50 and older. The eight-hour course is designed to help update driving skills and knowledge of the rules of the road, learn about normal age-related physical changes and how they impact driving, and obtain an insurance discount. Online courses are also available. To learn more and to locate classes in your area, visit the above website and type "Driver Safety Program" in the search box.
Pennsylvania Yellow Dot Program
penndot.gov/TravelInPA/Pages/Yellow-Dot.aspx
Yellow Dot assists those who have been in a traffic accident and aren't able to communicate their emergency care needs by themselves. Participants complete a personal information form, which includes their name and photo, contact information, emergency contact information, medical history and medications, allergies and their doctors' names. The form is kept in the person's glove compartment. A yellow dot is placed in the vehicle's rear window to alert first responders to check the glove compartment for vital information to ensure the individuals receive the medical attention they need. The program is a cooperative effort among the Pennsylvania Departments of Transportation, Health and Aging, Pennsylvania State Police, Pennsylvania Turnpike Commission, first responders and local law enforcement.
Seniors for Safe Driving
(724) 283-0245 or (800) 559-4880
seniorsforsafedriving.com
This driver improvement program is designed especially for seniors. It allows drivers a chance to refresh their driving techniques, develop positive driving attitudes and regain lost confidence. There is no written exam or behind-the-wheel test. A nominal tuition fee is charged. Call for class locations, dates and times. You can also register for a class online at the above website.
American Cancer Society (ACS)
Transportation Assistance
(800) 227-2345
cancer.org
ACS's Road to Recovery program pairs up cancer patients with local volunteers who drive them to their treatment appointments. To learn more, call the phone number above.
American Kidney Fund
(800) 638-8299
kidneyfund.org
As part of AKF's Safety Net Grant Program, grants are offered to needy dialysis and kidney transplant patients for treatment-specific (reimbursed) expenses such as transportation to reach dialysis. Grants are limited to travel necessitated by death or serious illness in the family or for the purpose of kidney transplant workup only. Safety Net Grant accepts only online applications from its website, above.
Free Rides for Seniors/In Service of Seniors North
(412) 449-0151
nhco.org
Operated by North Hills Community Outreach in partnership with St. Margaret Foundation, the Free Rides for Seniors volunteer-driven 10-passenger shuttles run weekdays from 10 a.m. to 4 p.m. in the following communities: Blawnox to Sharpsburg along Freeport Road; Millvale/Etna; Tarentum/Brackenridge/Cheswick/Natrona Heights; and Oakmont. In addition, In Service of Seniors, a program of North Hills Community Outreach, offers rides throughout northern Allegheny County, matching volunteers with seniors to provide transportation to medical appointments and grocery shopping. Must be age 60 or older. To sign up, call the above number.
Heritage Community Transportation
820 Braddock Ave.
Braddock, PA 15104
(412) 351-0535
For transportation: (412) 351-2200
Heritageservices.org
Heritage Community Transportation offers a shuttle service for 13 communities in the Mon Valley, including recently added routes in Braddock, North Versailles and Monroeville. The routes connect with Port Authority of Allegheny County bus stops. The cost is $0.25 for adults; $0.10 for children ages six through 11 and persons with disabilities; and free for adults ages 65 and older, and children age five and younger. Riders can cut their ride price by up to 70 percent with an annual Gold Card for $40 (unlimited rides). Applications can be downloaded online; printed applications are available at the Heritage main office. Visit the website, above, for a complete list of areas served, service schedule and route map.
Lyft
Lyft.com/cities/pittsburgh-pa
Lyft provides safe rides 24 hours a day, 7 days a week to all points around the Pittsburgh area, as well as to Pittsburgh International Airport. The Lyft app matches you with friendly local drivers at the tap of a button within minutes. After the ride, simply pay through your phone.
Port Authority
534 Smithfield St. at Mellon Square
Pittsburgh, PA 15222
(412) 442-2000
portauthority.org
Seniors ages 65 and older presenting a Commonwealth of Pennsylvania Senior Citizen Identification card or a Medicare card at the time of fare payment can ride Port Authority service for free at all times. When registering for a Senior Citizen Transit Card, you must show proof of age (birth certificate or driver's license). There is a simple form to complete and your transit pass will be mailed directly to your home. Show this pass to your driver each time you ride. This program is made possible by the Pennsylvania Lottery.
SuperShuttle
(800) BLUE VAN (258-3826)
SuperShuttle.com
Offers wheelchair-lift and private vans for getting around town, in addition to airport transfers. Book a shared-ride or private service from your door to the airport curb and get a safe ride, luggage assistance and airline rewards. Call the number above,  visit the website or use the SuperShuttle app.
Taxi Service
Classy Cab Company
(412) 322-5080
zTrip Taxi
(412) 777-7777
Travelers Aid of Pittsburgh
343 Boulevard of the Allies
Pittsburgh, PA 15222
(412) 281-5474
travelersaidpgh.org
This United Way agency provides social service programs to individuals in need of transit assistance. Travelers Aid works with public and private entities to offer a variety of transportation options for various populations through contracts with the Department of Human Services in Allegheny County and the Commonwealth of Pennsylvania, as well as partnerships with a number of other departments, foundations and community providers.
Uber
uber.com/cities/pittsburgh
The Uber app connects you with a reliable ride — from low-cost to premium — in minutes through your smartphone. One tap and a car comes directly to you. Your driver knows exactly where to go. Payment is completely cashless and tipping is not required. Applicable tolls and surcharges may be added to your fare.
zTrip
1101 Beaver Ave.
Pittsburgh, PA 15233
(412) 777-7777
ztrip.com
zTrip is a smartphone app that lets you book a black car or taxi in seconds. You can book for now, for later today, or for later in the week. Professionally licensed, background-checked and insured drivers and no surge pricing. There are three ways to book a trip: the zTrip app (find on Google Play or iTunes App Store), hail on the street or call the number above. Wheelchair vehicles available.