Above: Starfish awardee Peta Harrigan Cole.
The Wilkinsburg School District board of directors recently approved implementation of the Oasis Intergenerational Tutoring program in the district. This program, which is offered locally by Literacy Pittsburgh, pairs tutors ages 50 and older with students needing extra support in grades kindergarten through fourth grade for weekly, in-school sessions. Volunteer tutors, school district personnel and the Oasis program director work together to help children build reading skills, self-esteem and a positive attitude toward learning.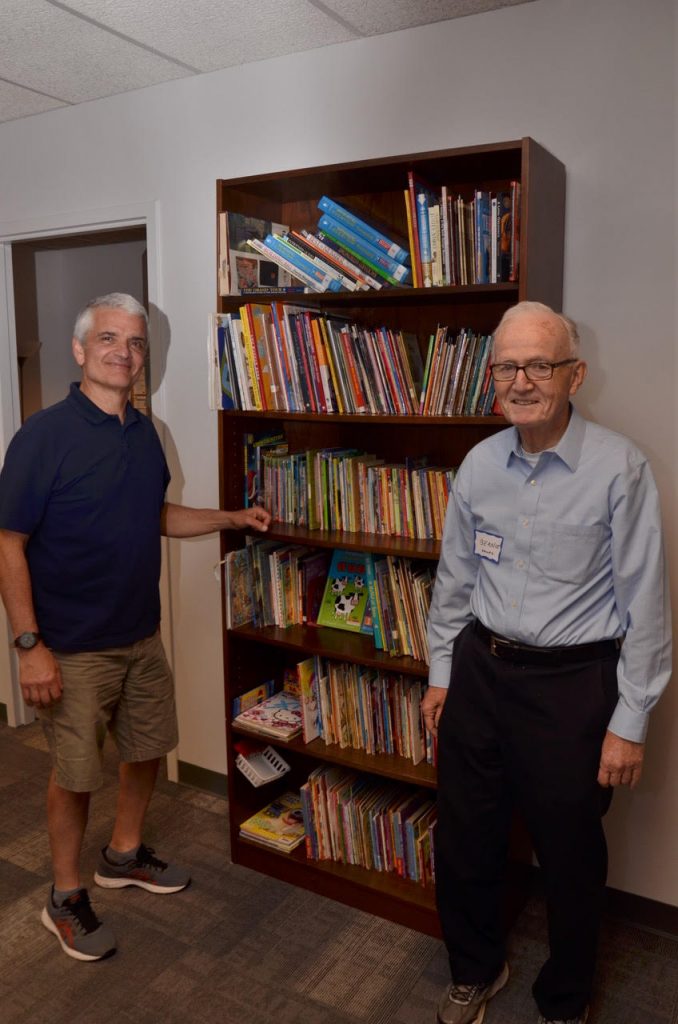 "We are excited about our partnership with Literacy Pittsburgh and the Oasis Intergenerational Tutoring program," says Wilkinsburg School District Superintendent Dr. Linda J. Iverson. "The program is researched-based and will provide additional intervention support to our second-grade students to help assure that they are reading on grade level during that transition from 'learning to read' to 'reading to learn' when they matriculate to third grade."
The program will initially be offered in Kelly Elementary; children must be referred by their teachers.
"We are excited to expand this vital program so that more children can thrive academically," says Literacy Pittsburgh Chief Executive Officer Carey Harris, "Literacy Pittsburgh believes strongly in lifelong learning. The Oasis Intergenerational Tutoring program supports not only the children enrolled but also the individuals who volunteer."
Oasis Intergenerational Tutoring is a national program sponsored by the The Oasis Institute, which promotes healthy aging through lifelong learning, active lifestyles and volunteer engagement. Oasis Intergenerational Tutoring was created more than two decades ago, and Literacy Pittsburgh has overseen the program in Allegheny County since 2013.
Tutoring is also offered in the Woodland Hills and Pittsburgh Public School Districts. Last year, 162 volunteers tutored 341 children in 29 schools."I look forward to working with local businesses, organizations and volunteers in the Wilkinsburg community to make a difference in the lives of children and adults," comments Director of the Oasis Intergenerational Tutoring Program John Spehar.
The Oasis Intergenerational Tutoring program emphasizes reading and writing skills essential to improving academic performance. Volunteers receive 12 hours of training that emphasizes techniques to draw upon a child's own experience to create simple stories that form the basis for reading activities. The program taps the tremendous potential of committed volunteers who have the time, patience, and life experience to make a profound difference in the lives of children.
In April, Oasis honored its tutors at its annual Oasis Starfish Awards program. Recognition was given to tutors who have generously given of their time for the past five, 10 and 15 years. The event was held at the Koppers Building in downtown Pittsburgh and included a hot buffet luncheon and entertainment.
Peta Harrigan Cole, 76, of Pittsburgh is one of the 15-year volunteers who received an Oasis Starfish Award at the event. Formerly a volunteer for the Allegheny County Area Agency on Aging's Senior Companion program, Peta found out about Oasis through Pittsburgh Senior News and it immediately and, as a former school teacher, it struck a resonant chord with her.
"Reading has always been my thing; I always have a book near my bed and if I were stranded on desert island, the one thing I'd want with me would be a good book," Peta shares. "When I came to the United States for college from my native British Virgin Islands, I was appalled that there were so many students who couldn't read. Through Oasis, it's my duty and pleasure to work with young people and help make them literate."
Peta tutors one second-grade student once a week, and it's not uncommon for her to attend her students' school functions to cheer them on. "It's a very rewarding experience when one of my students gets on the honor roll, wants to own a book or is even motivated to look in a book." In this day of social media and texting, Peta can see the importance of getting youngsters to read books. "The word 'you' is not spelled "u", and when we put those electronic gadgets down, we still have to read things like contracts and prescription bottles. I'm thrilled to see that my students want read, and they want to read to me too."
Recruitment of volunteer tutors is under way. To learn more about volunteering and for dates of upcoming training sessions, call (412) 393-7648.