If you're heading out to the Three Rivers Arts Festival this month, don't miss strolling by Booth Number 32 in Gateway Plaza. From June 1 through 5 (the festival runs through the 10th), you will find the amazing art of Ruth Richardson, 92, of Carnegie.
Incredibly, Ruth has been exhibiting at the festival since the 1970s and it could be said that her art is more relevant today than ever before. "Art and life merge harmoniously in my work," she says. "My paintings are subtle but they address big issues of diversity and unity. They are about bringing different types of people together—from Native American, African American, Caucasian and more. I believe art can play a meaningful role in the unity of mankind. Some of my abstracts speak to what is happening politically. I use color to express these concepts. My hope is that I will always have the courage to create and share my art in a beneficial way." 
Ruth's 41-year career in social work dramatically influenced her watercolors of people, landscapes and nature. "I've been a part of helping people with their problems and emotions, helping them survive," she says of her career. "I find their counterparts in nature as I explore the environment and its diversity through my art. I like it to interpret my responses to people and places. I love to portray flowers, sky and water as life forms with their own meaning." 
Background
Born in Washington, DC, Ruth has been a trailblazer most of her life. At St. Louis University, she was one of the first five African Americans to break the color barrier around the time that the university was considering ending its segregation policy. "They decided to accept me even though they weren't accepting blacks on those days," she recalls. "I graduated with a bachelor's of science degree in psychology and sociology, but what I really wanted to do was go to the art school. The best arts school in the area at that time was Washington University in St. Louis. They were not accepting blacks into the arts school but they did accept me into the school of social work.
"I decided that since the social work school was across from the arts school, I would get my master's degree from the George Warren Brown School of Social Work. That way, I figured, I could learn more about how to prevent the same kinds of injustices that I was dealing with for future generations. You see, I learned a lot by being in these situations. It enabled me to understand a lot more about people. When you're alone, as I was, most people don't even speak to you, but I was able to observe others and learn about them. All of this eventually informed my art."
Career
Ruth went onto have a very successful career in the social services field. "Social work is how I earned my living but I continued to do watercolor paintings of individuals, landscapes and abstracts." Over the course of four-plus decades, she held executive positions in four social agencies—the last being Three Rivers Youth, Inc. in Pittsburgh, where she retired in 1991 after 21 years as executive director.
Ruth also served in that position for the Anna B. Heldman Community Center in Pittsburgh. She was associate director of Hill House in Pittsburgh and of Dixwell House in New Haven, Connecticut, returning to Pittsburgh once more to then serve as executive director of the Termon Avenue Home for Children. "I was there during the merger of Termon Avenue Home and Girl's Service Club, which became Three Rivers Youth," she recounts.
Through all of these roles, Ruth has been credited with providing both staff training and innovative social services programming for children, helping to develop the first community based group homes, day treatment programs and alternative opportunities for at-risk children. As a result of her work, Ruth was invited to serve on numerous local and national task forces, committees and boards, including the Child Welfare League of America and the Pennsylvania Council of Children's Services.
Yet she recalls that especially during the early years of her career, she continued to face discrimination. "This time, it was in the form of gender discrimination, with men getting the promotions and jobs over women because they were male," she shares. Ruth continued to channel her emotions through her art, entering local competitions and exhibiting her work. "I would take my vacations during the Three Rivers Arts Festival time so I could set up at the festival. Some of the kids from the group homes would come down to the festival and volunteer to help me."
Being subtly provocative, her art began to get noticed. "One of my paintings, for example, is of two little girls," she explains. "One is white and is eating a chocolate ice cream cone. The black girl has vanilla. It's a hidden message about unity through diversity. Another of my paintings of a flower garden makes the point that if all these different flowers could grow together, so can we."
At some point along the way in her career, Ruth began to combine her art and her social work. She designed an art therapy program at Three Rivers Youth and set it up in seven group homes. "I discovered that if adolescents have problems, they can solve them through art. I hired two people at the University of Pittsburgh who were forerunners of the Art Therapy Association to start this program."
"We have been friends for 20 years," says Jeri Corbin, 84, of Brighton Heights, who is also an artist and art therapist. "Ruth's drive is the thing that I admire the most. Her art is fantastic and I am constantly inspired by her."
Artistic achievements
Eventually, Ruth began to win top prizes for her art and accolades for her work. Now retired, she has become a full-time accomplished artist, teaching classes and workshops around Allegheny County and receiving more than 50 art awards and honors. Ruth is listed in Who's Who of American Women and in a come-full-circle moment, received the 2005 Outstanding Alumni Award from the George Warren Brown School of Social Work at Washington University.
Now in her 90s, Ruth continues to paint from her studio in Carnegie and show her work, most recently at the Heinz History Center. She also continues to serve as a mentor and board member of Gwen's Girls, the Young Women's Christian Association, Ward Home South Arts, the Pittsburgh Watercolor Society and the Three Rivers Art Festival Artist Market.
Ruth has a son and daughter-in-law, Arthur (Bill) and Esther Boler, and a granddaughter, Elsa, who lives in London. She is a member of the Baha'i Faith.
To learn more about Ruth's work, visit rgr.8m.net or call (412) 279-0344.
By Gina Mazza For Pittsburgh Senior News
Featured photo caption: Ruth Richardson of Carnegie displays her art at the Three Rivers Arts Festival.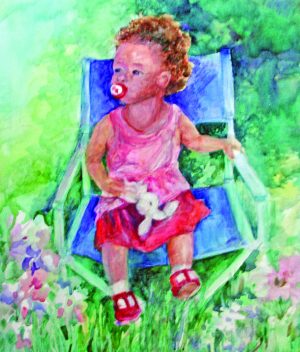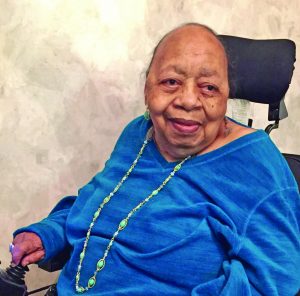 Photos of Ruth's artwork provided by Ruth G Richardson for Pittsburgh Senior News