VA Butler Healthcare's Health Promotion and Disease Prevention Program now offers veterans the opportunity to work one-on-one with a personal trainer in its Wellness Center at the Abie Abraham VA Health Care Center.
"I love motivating people to take charge of their health by introducing them to exercise at the Wellness Center," says Michelle Kovach, VA Butler's personal trainer for veterans. "Fitness is about so much more than exercise though. It is an impulse for positive change and it affects every aspect of your life. I encourage veterans to take a step into the Wellness Center. It just might be the most important decision they make."
Michelle is a certified personal trainer that works at VA Butler through a contract with the YMCA in Butler. She is available on Mondays and Wednesdays from 9 to 10:30 a.m. at the Wellness Center. The center also offers full gym equipment and free weekly fitness classes such as cardio, yoga, martial arts and meditation.
Harold "Mike" Shook, a US Air Force and Army Reserve veteran, uses the Wellness Center and personal trainer services regularly. "Without the personal trainer, I would have tried to develop my own workout, but I don't understand how the exercises work my body or what exercises work well for me and Michelle helps me work my core, which I really need," he says. "I am strengthening my abdominal muscles. I can now function at a much higher level."
John "Jack" Neudorfer, a Navy veteran who is visually impaired, appreciates the support and guidance Michelle provides. "Even though I can't see, Michelle makes the sun shine every day! Without her, I wouldn't be doing the core and balance exercises that are really helping me."
Army veteran Roderick "Rod" Claypoole has been utilizing the personal trainer services as well. "The Wellness Center is fantastic especially for us 'old fellas'!" he says. "It does me good to come here. I have a membership to a gym, but I don't go there because there is no one there to help me. I have a prosthetic leg and Michelle helps me a lot. She set me up with a workout routine."
Veterans must pre-register before participating at the Wellness Center or in the free fitness classes. For more information about the Wellness Center or personal trainer services, contact the Health Promotion and Disease Prevention program manager at (878) 271-6484.
Featured photo caption: Mike Shook, U.S. Air Force and Army Reserve Veteran gets help from a personal trainer at the Wellness Center in Butler.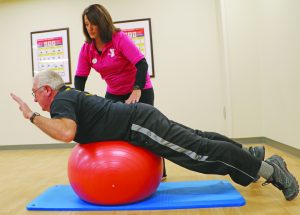 Photos provided by Amanda Kurtz for Butler County Senior News