It's an ancient Chinese game that dates back to the Qing Dynasty, and was first introduced to the United States in the Roaring '20s. So why is it now gaining in popularity across the country and right here in Butler County?
It's an interesting game of strategy, a whole lot of fun to play and "It really doesn't take that long to learn," says Janet McClean of Cabot.
Janet is one of a group of adults of all ages who meet up every Tuesday from 2 to 4:30 p.m. at the South Butler Community Library in Saxonburg as part of The Mah Jong Players.
The Mah Jong Players was founded in 2012 by Cynthia Beazell Krchnavy of Sarver. Shortly thereafter, Wendy Redmore of Sarver joined and together, the duo grew the group to its current count of 20. (New players are always welcome!)
What is Mah Jong and how is it played?
So what is Mah Jong (also spelled Mahjong)? Well, the tile-based game with symbols on the tiles may look odd but enthusiasts claim that it's no more difficult to master than common card games. In fact, it has been compared to the card game rummy because both are a game of skill, strategy and chance. Typically played by four players at a time, the courtyard made up of four walls is set up using 144 tiles based on Chinese characters and symbols. Each player gets 13 tiles to start. East receives 14 because East starts the game by discarding a tile. The play goes in a counterclockwise direction. South in turn, can pick up that tile to complete a kong, pong or chow or South can draw a tile from the wall. Once South discards, West takes a turn & then North. Discards are thrown into the middle of the courtyard. To win, a player must have 4 sets of tiles & a pair of tiles. A set is defined as four of a kind, called a "kong"; three of a kind, called a "pong"; or three consecutively numbered tiles in the same suit, called a "chow." A player claiming "Mah Jong" concludes the hand. Scores are recorded and then the tiles are shuffled and another courtyard is built.
"I've been playing Mah Jong for years and I love it," says Dorothy Brooks, 87, of Saxonburg. "It's a good social game."
Those are the basics, but the game can get more complicated (and thereby exciting!) by a number of factors. And of course, there are situations in which players get penalized. Learning how to score can be more challenging than learning the game, but it's basically based on combinations of tile suits that bring double and triple scores, similar to Scrabble.
So if you're bored of the same old card games and want to make some new friends, come on out to the library on Tuesdays and join in!
All levels of experience are welcome in the Mah Jong Club, and existing players are happy to teach new players. To learn more, call Cynthia Beazell Krchnavy at (724) 540-1090. A group also meets at Cabot United Methodist Church in Cabot.
By Gina Mazza
For Butler County Senior News
Featured picture caption: Janet McClean of Cabot enjoys a friendly game of Mah Jong.
Photo credit: Lynn Webster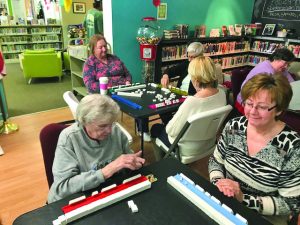 Dorothy Brooks [left] and others playing Mah Jong.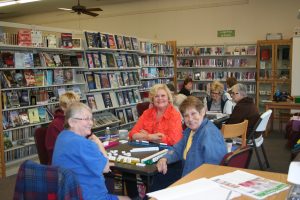 Sue Yokono, Wendy Redmore and Rosemarie Meyer.