Some of you may not feel comfortable driving your car, particularly if you need to go somewhere after dark. Others may just need a lift across town to get to the grocery store or pharmacy. Or maybe you're traveling by air and want a hassle-free way to get to the airport.
Luckily in Beaver County, there are a number of ways in which older adults can venture out safely, easily and at little (or even no) cost.
Beaver County Transit Authority (BCTA)
The most ubiquitous means of local public transportation is the Beaver County Transit
Authority, located in Rochester. BCTA provides fixed route buses that travel throughout Beaver County and into Pittsburgh. As part of BCTA's Free Senior Transit Program, adults ages 65 and older can ride free on BCTA's fixed route services all day, every day. To become eligible, you must and fill out a brief application (it can be downloaded online at BCTA.com), take it to the Rochester Transportation Center and present proof of age. Once your eligibility is established, you will receive a Free Senior Transit Identification Card. Each time you ride with BCTA, simply show this ID card to the bus driver upon boarding. This same card can also be used to receive reduced fare transportation on BCTA's DART system (see below) and is valid on all transit systems in Pennsylvania, so it can be used when visiting Pittsburgh or traveling across the state.
In lieu of a Free Senior Transit ID card, BCTA also accepts a government-issued proof of age documents showing date of birth (such as a driver's license, non-driver ID card or passport) to establish eligibility for free travel. These documents must be presented to the driver as you board. Be aware that this accommodation may not apply outside of Beaver County, so check with the other transit system(s) you plan to ride with before embarking on your trip. Also please note that if you do not present your transit card or a valid proof of age, you may be required to pay the full fare.
For riders with disabilities, as well as seniors with limited mobility, BCTA offers a wide range of accommodations to make travel more convenient, safe and comfortable, including lift-equipped vehicles, kneeling and low-floor vehicles, passenger assistance, designated seats for seniors, an armband program for the visually impaired, stop announcements and a telecommunications device for the hearing impaired (TDD). For information about BCTA's services, call (724) 728-8600 or visit BCTA.com.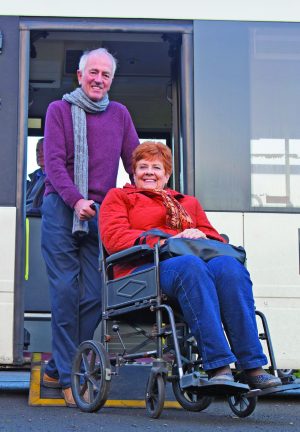 BCTA's DART
The Demand and Response Transit (DART) service is BCTA's door-to-door, advance-reservation, shared-ride system. It is operated in both urban and rural areas of Beaver County. This service is available to the general public, seniors, persons with disabilities, and others with specialized transportation needs to and from any point in Beaver County that cannot be reached by using the regular fixed route buses. Connections to BCTA fixed routes can also be made upon request. There is a charge for the service but adults ages 60 and older and those with ADA-established disabilities (verified by your doctor) ride at a very reduced rate (half fare).
Urban portions of Beaver County are served by DART Monday through Saturday, while trips to and from rural portions of Beaver County can be made Mondays, Wednesdays, and Fridays. When riding DART, there is no restriction on trip purpose, and no type of trip is given priority over another in the scheduling process. The daily routes and schedules of service vary each day in response to the demand expressed for service to and from certain points. All trips are scheduled by advanced reservation only. For trip reservations, questions or concerns related to DART, call (724) 375-2895 or (800) 262-0343.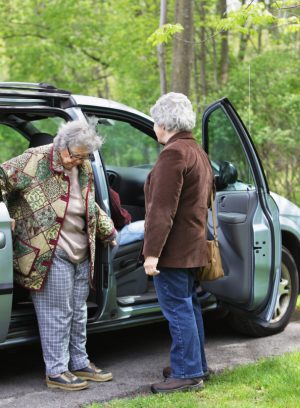 Medical Assistance Transportation Program (MATP)
In Beaver County, the MATP Program is administered through the Beaver County Transit Authority, with funding from the Pennsylvania Department of Human Services. MATP provides non-emergency medical transportation to Beaver County residents who hold a valid Pennsylvania Medical Assistance (MA) card. It is intended to offer transportation or mileage reimbursement to those who need to access medical care or other medical services from Medical Assistance providers. These other services include therapies, tests, dental visits, trips to the pharmacy to pick up prescriptions, mental health treatment, drug and alcohol addiction treatment, and trips to medical equipment suppliers. MATP cannot be used for emergency or ambulance transportation, non-medical trips such as shopping and social activities, or to obtain medical care not covered by Medical Assistance.
Depending on your origin and destination, your specific needs, and the costs involved, MATP can provide by public fixed-route bus, shared-ride, lift-equipped vehicles, or mileage reimbursement when your own vehicle is used.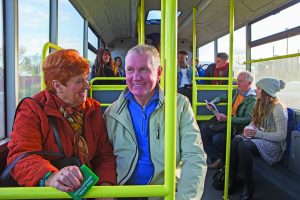 Super Shuttle to Pittsburgh International Airport
If you need to get to or from Pittsburgh International Airport and cannot drive or do not want to leave your car at an airport parking lot, consider reserving an airport shuttle or black car from Pittsburgh Transportation Group. This privately owned company offers non-stop van, black car and SUV service from anywhere in Beaver County to the airport. Certain zip codes within the county also offer "shared-ride" van service, which is priced much lower; those areas are 15061, 15001,15042, 15005 and 15003.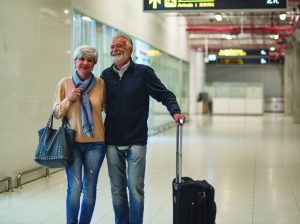 For special occasions (like a family wedding) or for groups (like up to 40 people from your church taking a daily outing to a show downtown), Pittsburgh Transportation Group also offers ExecuCar, bus and luxury vehicles service.
To learn more or to schedule service, call (412) 444-4444 or visit pghtrans.com. You can also use the SuperShuttle app from your smartphone to book service.
Need a ride in Beaver County or beyond? There's an app for that!
Do you have a mobile phone and feel comfortable using apps? Then consider using one of these two popular ride services on your next trip across town, downtown or wherever you might otherwise take a taxi. One tap on your phone and a car comes directly to you. Your driver knows exactly where to go.
Lyft provides safe rides 24 hours a day, 7 days a week to all points around the Pittsburgh area, including Beaver County, as well as to Pittsburgh International Airport. The Lyft app matches you with friendly local drivers at the tap of a button within minutes. After the ride, simply pay through your phone. To learn more, visit Lyft.com/cities/pittsburgh-pa.
Uber is another option. The Uber pp connects you with a reliable ride (from low cost to Premium) in minutes through your smartphone. Payment is completely cashless and tipping is not required. Applicable tolls and surcharges may be added to your fare. To learn more, visit uber.com/cities/Pittsburgh.
If you have any issues with either of these ride services, you can file a complaint through the PA Public Utility Commission's Bureau of Consumer Services at (800) 692-7380.
By Gina Mazza
For Beaver County Senior News
Other resources are available to help older drivers stay safe
AARP Driver Safety Program
The AARP Driver Safety Program is the nation's first and largest classroom refresher course for drivers ages 50 and older. The eight-hour course is designed to help update driving skills and knowledge of the rules of the road, learn about normal age-related physical changes and how they impact driving, and obtain an insurance discount. Online courses are also available. To learn more and to locate classes in your area, visit the above website and type "Driver Safety Program" in the search box. Call (888) 227-7669 or visit aarp.org.
Seniors for Safe Driving
This driver improvement program is designed especially for seniors. It allows drivers a chance to refresh their driving techniques, develop positive driving attitudes and regain lost confidence. There is no written exam or behind-the-wheel test. A nominal tuition fee is charged. Call for class locations, dates and times. Call (724) 283-0245 or (800) 559-4880 or visit seniorsforsafedriving.com to register or for more information.
A Guide to Talking With Older Drivers
The Pennsylvania Department of Motor Vehicles has a very useful booklet called Talking With Older Drivers: A Guide for Family and Friends that helps family members and friends know when and how to get involved in an older person's decision on whether to continue or modify their driving. The booklet can be downloaded online. Go to dmv.pa.gov/Driver-Services/Mature-Drivers/Pages/default.aspx.