If dancing is something that you infrequently do at family weddings, or if you think it's an activity that you can only do in your youth, think again. Dancing is an activity that is particularly beneficial for older adults. Those benefits range from creating strong social
connections that increase your sense of well being to improving your physical and mental health.
Physical health benefits
Not ready to dust off your dancing shoes just yet? Well, consider that as we age, the body loses muscle mass, coordination and balance, making it more likely that you may fall and injure yourself in the course of your daily activities.
Dancing can help counteract this by improving your strength, endurance and muscle function, as well as increasing balance and flexibility. It can also improve your cardiovascular health. And the positive physical benefits don't stop with the dancing itself. Studies indicate that once you become physically active, you're more likely to engage in other healthy behaviors, like eating a nutritious diet and keeping up with your medication. It doesn't matter what type of dance you decide to do. Any style of dance can help maintain or even improve your physical health.
Social and emotional benefits
Dancing also gets high marks for its social and emotional benefits—for those who engage in it and even for those who are entertained by this art form. It's an activity that keeps seniors engaged in their communities and, of course, provides an enjoyable outlet for self-expression.
At Pittsburgh Ballroom in Sewickley, their mission is to "enhance lives through ballroom dance." They do so in a number of ways. "We hold dances the second Saturday of the month at various venues in Pittsburgh," explains Gretchen Brocks, president of Pittsburgh Ballroom. "No partner is required. We usually get over 100 people who enjoy all styles of ballroom dance. No experience is necessary either, since we have a free one-hour lesson before each dance with a paid admission."
For older adults who want to give dancing a whirl, Pittsburgh Ballroom offers an outreach program for seniors. "Our volunteers give popular interactive presentations on the many social and health benefits of dance at senior centers, community centers and other places around town," says Rosemary Traill, who heads up the program. "We usually have a few presentations given by competitors in sparkling attire and a short lesson in basic steps or line dance that gets everyone up and moving. It's fun for all involved!"
Of course, watching others dance can be exhilarating, too. As part of its Senior Outreach Program, Pittsburgh Ballroom's all-volunteer dance troupe performs at various locations around town. "I saw the Pittsburgh Ballroom dancers at the Sewickley YMCA a few times, and they were entertaining and a lot of fun," says senior Monica Cordeiro of Crescent Township. "I enjoyed every bit of the performance."
At Grace Manor at North Park, the dancers recently entertained residents, who not only enjoyed watching the performance but also participated. "One of our older residents who got up and danced with the assistance of one of the dancers said she had the greatest time and it felt amazing to get the chance to dance again since she hadn't danced in years," comments activity director Sharon Koglin. "Another one of our residents twirled a dancer around from his walker and felt like he was 25 again! Those who didn't join in on the dance floor still moved their feet to the rhythm from their chairs. I honestly can't begin to explain the positive effects this performance had on our seniors. They are still talking about that afternoon of dancing, smiling and reminiscing!"
Cognitive benefits
In recent years, the really fascinating research into the benefits of dancing is about its cognitive benefits for older adults. According to two studies funded by the National Institute on Aging and published in the New England Journal of Medicine in 2012, for example, frequent dancing apparently makes us smarter because it simultaneously involves kinesthetic, rational, musical and emotional processes. It stimulates brain activity and helps form new neural connections, thereby warding off Alzheimer's disease and other forms of dementia. It also increases cognitive acuity at all ages.
Is dancing more effective than other forms of stimulating the mind? Again, apparently so. One of the above-mentioned studies included other cognitive activities such as reading books, writing for pleasure, doing crossword puzzles, playing cards and playing musical instruments, as well as other physical activities like playing tennis or golf, swimming, bicycling, walking and doing housework. What's surprising is that almost none of the other physical activities appeared to offer any protection against dementia. Dancing offered the greatest risk reduction of any activity studied, cognitive or physical.
So turn on some music and get your feet moving! For the greatest health benefits, experts suggest dancing often. More is better. You'll improve your physical and cognitive health, increase your emotional well being, and even meet a new friend or two in the process.
Pittsburgh Ballroom is located at 415 Beaver Street in Sewickley. To learn more, call (412) 423-6144 or visit pittsburghballroom.com.
By Gina Mazza
For Pittsburgh Senior News
Featured picture caption: Pittsburgh Ballroom dancing at the UPMC Wellapalooza Health Fair in Lawrenceville.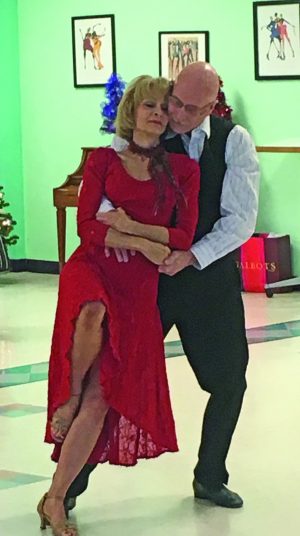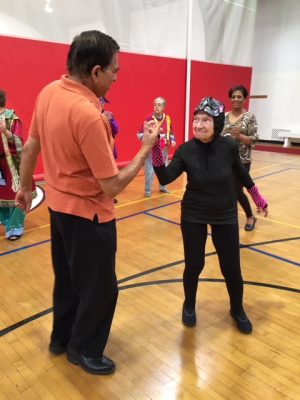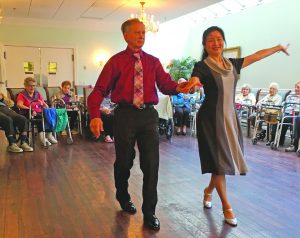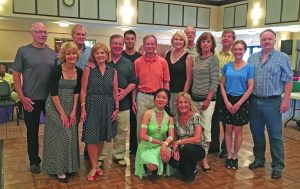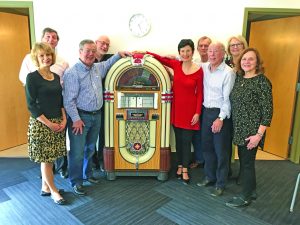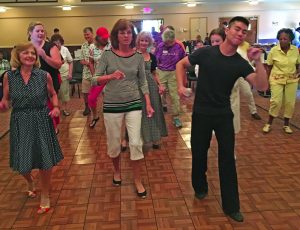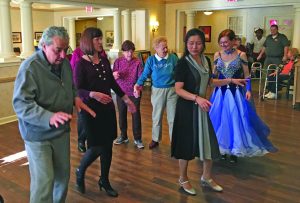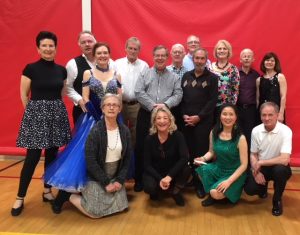 Photos provided by Gretchen Brocks.