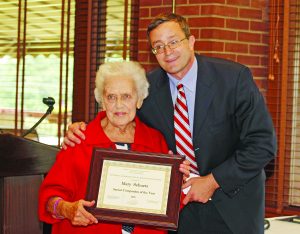 The Senior Companion Program of Allegheny County celebrated its 42nd year with an annual recognition luncheon at the Edgewood Country Club on Friday, June 24. The event recognized and celebrated the valuable service that Senior Companions provide in brightening the days and lifting the spirits of older adults throughout Allegheny County. Senior Companions are adult volunteers, ages 55 and older, who provide friendly visits to vulnerable seniors in various settings, including at their homes, in adult day centers, and in nursing homes.
The manager of the Senior Companion Program, John Miller, kicked off the day by welcoming the Senior Companions and thanking them for their service. He said that while the day would be capped off by the naming of the Senior Companion of the Year, each volunteer should feel proud of his/her service: "While this award is a distinct honor, today we celebrate each and every one of you for the tireless service you provide to older adults throughout Allegheny County," Miller said, pointing out that the back of the written program for the day's event included actual quotes from care recipients and family caregivers who spoke to the program's value. "The consumer and family caregivers had so many good things to say about what you do, it was very challenging to decide which quotes to include. At first I wanted to include 20 quotes, but the graphic designer pointed out that there was only so much room on the program," Miller joked with the audience.
After the introductory remarks, Kimberly Hall, Care Coordination Division Chief at the Allegheny County Department of Human Services Area Agency on Aging, spoke to the Senior Companions about how critical their service is, and how it fits in with the overall mission of the agency. "The DHS/AAA relies on your visits to help support the important and impactful work being done at the AAA through the Aging Waiver program, the Options program and the Family Caregiver Support Program," Hall said. "In addition to the hands-on help, emotional support and companionship you provide, you are the eyes and ears of the agency. You are able to report back issues and concerns to care managers, service coordinators and senior high rise coordinators who work with high caseloads and can't be in touch with our older adults as much as they would like to be."
Kimberly then reported that Senior Companions served more than 400 people and close to 97,000 hours during the past fiscal year. She went on to thank the 14 partner agencies, known as volunteer stations, for helping to make the program a success. "We are grateful to you for your commitment to partner with us and recognize that the program could not function without your support."
Kimberly summed up her remarks by talking about the precious gift of time that Senior Companions provide. "One of the important things I've come to realize as I go through life and grow older is that when we realize our time is winding down here on Earth, we don't wish for more money, an expensive sports car, a beautiful mansion or a fabulous, exotic vacation," she commented. "We wish for time. The gift of time is priceless and selfless. Thank you, each and every one of you, for gifting yourself and your time to the older adults of Allegheny County."
The keynote speaker at the luncheon was Jeanette Matthews, an instructor at the Community College of Allegheny County, who gave a presentation called "Caring for the Caregiver", which presented various practical strategies that caregivers can use to alleviate stress. She pointed out that very often, people in caregiving roles are so busy helping others that they neglect to take care of themselves. Not long into her talk, the Senior Companions began launching paper airplanes they had made as part of an exercise Jeanette led about identifying the stressors in our lives then being able to let them go. She also led activities in which attendees wrote positive attributes about themselves and engaged in guided imagery to get themselves into a relaxed state. "You can't be effective in taking care of others if you don't take care of yourselves," she told the group.
After lunch, the awards were presentated. The chairperson of the Senior Companion Program advisory council, Helen Ference, introduced those Senior Companions who had achieved various milestones of service with the program. The five-year group consisted of Regina Andrews, Mary Schuetz and Sarah Womack. The 10-year group consisted of Marian Clark, Helen Durant and Ruby White. Two Senior Companions, Annie Calfe and Ernestine Cannady, were recognized for 15 years of service. All received service pins, small gifts and certificates of achievement.
Then John recognized the "top 10" Senior Companions who served the most hours in 2016:
• Leonid Berman, 1,481 hours
• Jayne Little, 1,493 hours
• Mary Life, 1,616 hours
• Nancy Stewart, 1,717 hours
• Carol Freeman, 1,758 hours
• George Jackson, 1,844 hours
• Marian Ferrar, 1,856 hours
• Mary Schuetz, 1,918 hours
• Shirley Marshall, 1,946 hours
• Ellen Coulter, 1,952 hours
John pointed out that volunteering helps to keep you feeling young: "I have heard from many of you that this program does as much for you as it does for the people you're helping. We have volunteers in their 60s, 70s and 80s, and we even have three volunteers in their 90s." The crowd cheered loudly when he pointed out that the top Senior Companion for hours served, Ellen Coulter, was among the group of three Senior Companions in their 90s. The other two in this age group, Ida Alexander and Gwen Mayfield, also received hearty applause.
Next was recognition of the volunteer station supervisors, advisory council members, and program staff. The day culminated with the announcement of the winner of the Senior Companion of the Year award. John explained that the Senior Companion of the Year is chosen by the program's advisory council, which receives nominations from the volunteer station supervisors. He read snippets from the nominations throughout the day's proceedings and noted that "while these quotes pertain to specific individuals, I believe that all of you are winners today because you all bring these qualities to your service as Senior Companions. I think you will hear things about yourself when I read these quotes."
This year's nominated Senior Companions were:
• Ellen Coulter, Familylinks
• Robin Crawford, Family Services of Western Pennsylvania
• Mary Daniels, West Park Court Apartments
• Shirley Griffin, Southwest Veterans Center
• Eunice Nelson, Eastern Area Adult Services
• Mary Schuetz, Allentown Adult Day Center
• Julia Stitt, Hill House Senior Center
And then it came time to officially announce this year's Senior Companion of the Year: Mary Schuetz. Mary was pleasantly surprised upon hearing her name announced. "I'm speechless," she said as she received her award. "You all deserve recognition for what you do," she told her fellow Companions.
Mary's supervisor at the center, Michelle Silliman, explained why she nominated Mary for this recognition. "Mary gets to know her participants and knows their wants and needs." Silliman explained that even though the participants at the center have Alzheimer's and are severely impaired, this doesn't deter Mary. "That doesn't stop her from reaching out to them. Her approach is gentle and kind with these individuals. She has formed a strong bond with them and I know they trust her and she makes them feel safe. She has been seen singing to them, dancing with them, holding their hands, walking with them and feeding them. She is a dedicated volunteer who doesn't know when to stop.
The Senior Companion Program is always looking for qualified volunteers who have a genuine interest in helping older adults. The next training class will be held in mid-September. For more information about the Senior Companion Program, call John Miller at (412) 350-4061.