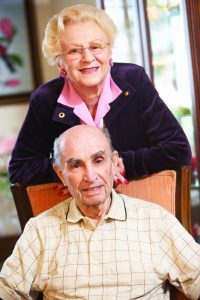 Many of us serve as caregivers at some point in our lives—especially as we grow older. If you unexpectedly find yourself in a caregiver role, please know that there are plenty of services out there to help you. There are many forms of support that can help keep your loved one living independently for as long as possible, while taking into consideration your needs as a caregiver.
Respite care (volunteer or paid), Home Health Agencies or in-home non-medical care may be the answer. Or you may decide to hire a geriatric care manager to arrange and oversee your loved one's care. Perhaps adult day care may be appropriate for your situation. We are fortunate to have an abundance of resources in Allegheny County; consider taking advantage of them. After all, you can't adequately care for someone else if you don't care for yourself, as well. Here are some tips to help.
Ten Tips for Caregivers
1. Caregiving is a job and respite is your earned right. Reward yourself with respite breaks often.
2. Watch out for signs of depression, and don't delay in getting professional help when you need it.
3. When people offer to help, accept the offer and suggest specific things that they can do.
4. Educate yourself about your loved one's condition and how to communicate effectively with doctors.
5. There's a difference between caring and doing. Be open to technologies and ideas that promote your loved one's independence.
6. Trust your instincts. Most of the time they'll lead you in the right direction.
7. Caregivers often do a lot of lifting, pushing and pulling. Be good to your back.
8. Grieve for your losses and then allow yourself to dream new dreams.
9. Seek support from other caregivers. There is great strength in knowing that you are not alone.
10. Stand up for your rights as a caregiver and a citizen.
Provided by the National Family Caregivers Association. Visit caregiveraction.org for more information.