The COVID-19 pandemic has caused disruptions on many levels for everyone, and our nation's veterans are certainly no exception. Like other organizations serving older adults, local AARP volunteers and staff have had to pivot in order to continue serving local seniors, as well as veterans, military and their families.
"AARP salutes the service and sacrifice of America's veterans, military and their families," comments Jennifer Blatz, Associate State Director for Community Outreach and Advocacy for AARP Pennsylvania. "With more than four million members nationwide who have served our country, AARP has a long history of providing free resources, important information, and timely programming to meet their unique needs. In good times and during national crises like the current COVID-19 pandemic, we're making it quicker and easier to access resources and tools to improve our veterans' quality of life."
Following are a number of the programs, initiatives and ways in which AARP is helping our local heroes and their families.
Card writing campaign
Locally, AARP partners with the Southwest Veterans Center, located on Highland Drive in East Liberty. After COVID put a halt to all the fun programs planned at the center, including picnics and bingo parties, the volunteer team got creative.
"The center had to shut down and the 325 veterans who reside there have not left the center since March," says Mary Ann Raymer, co-chair of the AARP Western PA Veterans Committee, composed of 25 AARP members who are passionate about serving veterans and their families. So the committee had the brilliant idea of starting a card writing campaign to the residents. "Between April and June, we wrote about 800 cards with messages like 'thank you for your service' and 'thinking of you.' We also delivered jigsaw puzzles, cookies and soft drinks, magazines and face masks. They're able to still run bingo inside the center so we coordinated the donation of some bingo prizes, too."
AARP also teamed up with the Veterans Leadership Program to start an online gardening project for 12 women who were seeking some support and camaraderie, originally intended for the outdoors. In 2019, VLP had begun planning a community garden in Hazelwood and after the pandemic hit, the idea moved online to a monthly Zoom program where the women learned how to grow vegetables and start their own home gardens.
Caregiving Resources
Nearly 5.5 million military and veteran caregivers nationwide deliver voluntary, uncompensated care to wounded warriors every day. While everyone's caregiving journey is unique to their situation, veterans and military families face additional challenges every day—some of which have been exacerbated by the pandemic. "We know that older adults and those with chronic health conditions—many of whom are wounded, ill, or injured service members and veterans—are at higher risk for serious illness and complications from coronavirus," Jennifer explains. "We also recognize that many on the frontlines of the caregiving community may be at elevated risk for the COVID-19. Veteran caregivers are now hesitant to run basic errands, given the risk of being exposed themselves or bringing infection into their warrior's home."
AARP has developed resources in an effort to continue stepping up its efforts to serve caregivers, including free virtual programs and online resources like the "Military Caregiving Guide", which includes COVID-19 specific resources and a convenient community connections finder for local resources. It can be downloaded at https://www.aarp.org/content/dam/aarp/caregiving/2019/05/military-caregiving-guide-aarp.pdf?intcmp=AE-HF-FFR-VC-VET-R5C3-LL2. More free tools and resources are available at AARP.org/Caregiving and AARPcommunityconnections.org.
Combatting Fraud
Research by AARP's Fraud Watch Network indicates that veterans and military families are twice as likely as civilians to be targeted by con artists, and there's no exception during the pandemic. Schemes to steal one's personal information and money range from bogus COVID-19 test kits, fake veterans charities to fight the coronavirus, and fraudulent "Trump dollars" stimulus checks to military service benefits schemes, bogus jobs scams and illegally charging for military records that veterans can get for free. To combat fraud, AARP has developed tools for veterans, like the Watchdog Alert Handbook. Use this link to download it: https://www.aarp.org/content/dam/aarp/home-and-family/voices/vetarans/2018/11/Watchdog-Alert-Handbook-Veterans-Edition-9-Ways-Con-Artists-Target-Veterans-AARP.pdf?intcmp=AE-HF-FFR-VC-VET-R5C3-LL3.
The network provides biweekly "Watchdog Alerts" on the latest scams, a scam-tracking map, tip sheets and more at AARP.org/FraudWatchNetwork. It also offers toll-free access to trained volunteer fraud fighters to whom you can report a scam or get help if you've fallen victim; call (877) 908-3360.
Finding Employment
Military veterans routinely face transitioning from active duty to civilian life, moving from one community to another, or changing jobs or careers. The recent rise in unemployment has made the job landscape even more challenging and complex for vets. Free tools and resources are available to assist active duty military and veterans in finding and obtain employment and advancing their careers.
AARP's Work Reimagined website offers a Job Board that connects experienced veterans with age-friendly, military-supportive employers. You will find tips and tools from experts who know the 50-plus workforce, including a free resume critique service to better connect with employers who appreciate our veterans' unique value. The website also offers free information, programs and insight on how to stay competitive, prosper in the workplace, or become an entrepreneur by starting a new business. Visit AARP.org/Work.
AARP has recently connected with Pittsburgh Hires Veterans, which serves all veterans and active service members in Southwest Pennsylvania's 12-county region who are seeking employment. As a community partner, AARP hopes to help get the word out about Pittsburgh Hires Veterans' free services, like helping vets translate their military experienced into civilian employment, or receiving additional training and education after transitioning out of active duty service. One-on-one sessions include career counseling, personal job referrals, resume assistance and interviewing skills.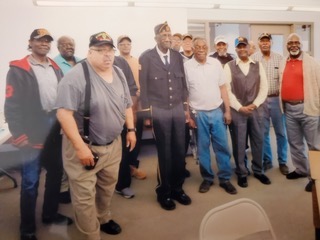 Former state auditor general Jack Wagner, a Vietnam War veteran, serves on the Pittsburgh Hires Veterans board of directors and has also spearheaded efforts to build a training facility in McDonald that will train Guardian Angel Medical Service dogs. In 10 years, Guardian Angels has trained and placed more than 340 dogs, but the waiting list for dogs is long. "Having a dog if you have PTSD, a traumatic brain injury or other health issue is a huge support," comments Wagner, regional development director of fundraising for the project. "To date, we've matched 40 veterans with Guardian Angel service dogs and not one of these soldiers has committed suicide." The proposed facility will greatly expand capacity to train and then match dogs with veterans.
Vet-to-Vet Emotional Support
"Combat changes a person," says Vietnam War veteran Charles White of Penn Hills, retired Sargent First Class with the 101st Airborne Division, and co-chair of the local AARP's Veteran's Committee. "Vets understand other vets, whereas society does not."
That is the premise of a support group hosted by the Vietnam Vets of Southwest Pennsylvania. The group of about 40 (mostly combat) veterans continue to meet weekly as they have been for more than 10 years and has provided emotional support through group therapy with much success. "We have not had a suicide in our group," Charles comments. "The public does not realize that vets have unique problems, and they are magnified much more than the average person in society. Our main goal is to help vets who are having problems from combat."
Jennifer can attest to the power of the group. "Charles brings a lot of gravitas to the group by bringing in people from the VA who the vets can trust," she explains. "In this group, vets can air their concerns and grievances by relying on one another, as well as the VA services."
Beyond the regular support group, the Vietnam Vets of Southwest Pennsylvania assist veterans in various other ways. "We cater to vets who are confined to the hospital but will help any vet who needs help getting their benefits," Charles says. "In the past, we've assisted AARP with Presents for Patients, donate books to libraries in the VA, done cookouts for vets at the hospital, and more."
The Vietnam Vets of Southwest Pennsylvania and AARP work together to provide services that are needed but not currently available to veterans. To learn more about the support group and other projects, call Charles at (412) 559-0532.
All of the above programs are bridging the gap between our local veterans and the free resources, information and programming they need, especially during the current pandemic. "Over 10 percent of AARP members are veterans or military," Jennifer points out, "and we're dedicated to meeting the needs of all who have sacrificed for our great nation."
AARP strongly encourages everyone to take necessary precautions to avoid any risks and follow guidelines laid out by the Centers for Disease Control & Prevention and shared by the Veterans Administration at cdc.gov/coronavirus. To learn more about AARP's support for veterans, visit AARP.org/Veterans.