Baseball Hall of Fame baseball player and Pittsburgh Pirate All-Star/MVP Paul Waner was a fan favorite in the 1920 and 1930s. Waner was elected to the All-Star game in 1933, 1934, 1935 and 1937. Number 11 (which graced the uniform of Waner) has been retired by the Pittsburgh Pirates and his number hangs at PNC Field.
Unfortunately, Waner died at the young age of 62 years old in 1965. Collecting autographs in the 1960s and 1970s wasn't mainstream. A few serious collectors would send away for autographs in the mail or approach their favorite players before or after baseball games. Therefore, finding Paul Waner's autograph is elusive but it's is valuable because he died in the 60s and was inducted into the Hall of Fame.
Being a vintage baseball card and sports memorabilia collector, I get calls to purchase many different items. I recently got a call from a Pittsburgh family with three Paul Waner autographs. The collection has been passed down from generation to generation. The autographs were originally obtained by a family member who wrote to many athletes in the 1930s.
The family hadn't seen the autographs in many years because they were hidden in their attic. When I arrived to the family residence, they provided me with a ladder, gloves, and a plastic bag for my venture into the attic. It was dusty and littered with animal feces. I used my iPhone flashlight to find the box that held the autographs. After nearly 30 minutes, I stumbled upon a large non-discreet box that was taped shut. I used my car keys to pry it open. At the bottom, I found the Waner autographs. I put them into the plastic bag.
All three autographs were signed on pieces of paper from the late 1930s. One of them had a taped newspaper photo of Waner. The signatures were very bold, as if Waner signed them yesterday.
I made the family an offer for the autographs and they accepted. Since then, I have properly displayed the autographs and admire these memories of the legend of Paul Waner, as well as the memory of digging in one Pittsburgh attic to find them.
Do you have a vintage baseball card or sports memorabilia collection? Michael would like to hear your story. He can be reached at (312) 379-9090 or Michael@baseballintheattic.com. To learn more, visit baseballintheattic.com.
By Michael Osacky
For Pittsburgh Senior News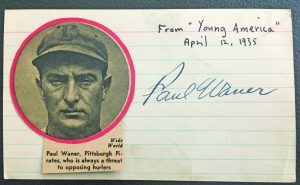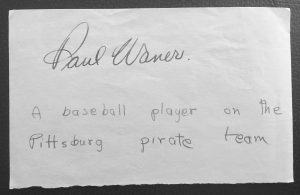 Photos provided by Michael Osacky
for Pittsburgh Senior News