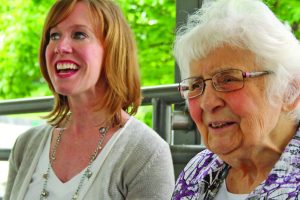 This article is the first in a three-part series about United Way of Southwestern Pennsylvania's initiatives to expand services for older adults, as well as their children and other loved ones who serve in caregiving roles on their behalf.
North Hills resident Mary Anne Yost, 90, has been a trailblazer most of her adult life. Fresh out of high school, she began working in a career that was, in her day, available mostly only to men. In fact, she was the first woman hired into the newsroom at the newspaper based in Johnstown. Mary Anne continues to be an active, independent woman who keeps up with current events in the news. She admits, however, that at her age, "It's a struggle to remain independent, and it's not always easy."
That's why she is thankful for the support she receives through United Way's "Open Your Heart to a Senior." The program recruits, trains and matches volunteers of all ages to help seniors in the Pittsburgh region. After having to give up her car and driving, Mary Anne was matched with her grocery shopping volunteer, Melissa. Without Melissa's help, a trip to the store would be much more challenging and much less enjoyable.
"Melissa helps me find bargains," Mary Anne says, "and the ingredients for whatever I'm going to make. I've always liked to cook and bake, so it's a real treat to share that time with Melissa. She's a real joy."
Mary Anne likes to stay busy and thanks to volunteer support, she can. From a group of friends she's joined for regular lunches over the past 35 years to being involved with her church to weekly grocery shopping with Melissa, she's able to be on the go, just the way she likes it.
"Open Your Heart to a Senior" volunteers provide not just rides but also hot meals and assistance with mail, bills and more. Last year, the program—a collaboration between United Way of Southwestern Pennsylvania and 14 agency partners—mobilized 2,296 volunteers to provide more than 68,000 hours of service to 5,613 older adults. As a result, 83 percent of older adults reported feeling safer at home and 94 percent reported falling less.
Harold Jordan, 78, of Blawnox, is another senior who is grateful for help from the program. After he retired, he sold his house and moved to a senior apartment building. When he learned he could have access to a Free Rides for Seniors shuttle, run by "Open Your Heart to a Senior" partner North Hills Community Outreach, he hopped on—literally. During the process, something really terrific happened for Harold. He met Dick, a retired truck driver who was the volunteer driver.
"I'm a big believer in giving back," Harold explains. "I volunteered with seniors years ago, I guess when I was in my 30s, 40s and 50s. You set an example, and then you become a senior yourself. Someone will step in to help you, like Dick is now."
To meet Harold now and try to keep up with his active lifestyle, you wouldn't know that he'd had hip replacement surgery nearly three year ago. "I am lucky," Harold admits. "My road to recovery has been easier than I anticipated. I continue to walk every day. I am blessed."
"Open Your Heart to a Senior" volunteer Dick has helped Harold get around via the Free Rides for Seniors shuttle. He also offers Harold rides in his own car. "We go to the doctor, hospital, shopping, pick up prescriptions," Harold adds. Through the course of their travels, a true friendship blossomed and now the two get together several times a week. "When we're out and about, we have great conversations. Dick's the driver, but he's also my friend."
"We've since become workout buddies and get together to go walking almost daily," Harold says of their routine. It even inspired Dick to adopt a healthier lifestyle. "The friendship that came out of this is more than I could have imagined. Dick is a great guy," Harold says with a smile. "We met and just connected. It seemed like an instant bond. Like super glue."
Thanks to a network of caring family and community volunteers, thousands of Allegheny County older adults like Mary Anne and Harold are able to live healthy and safe, with dignity, in their homes.
As our Allegheny County community continues to age, United Way remains committed to increasing its impact, which means that volunteers are always welcome. To volunteer your time or donate funds to support Open Your Heart to a Senior, visit uwswpa.org/open-your-heart-to-a-senior or call Laura Poskin at (412) 456-6716. To sign up for a volunteer, dial 2-1-1. Learn more about United Way's United for Seniors initiatives by visiting uwswpa.org/who-you-help/seniors.
Feature photo caption: Harold (left) found more than a ride when he signed up for United Way's Open Your Heart to a Senior.