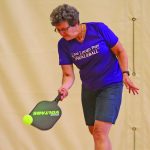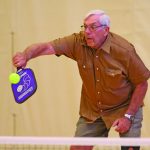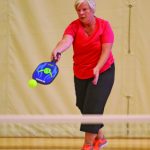 The fastest growing sport in the country is now becoming known as an effective way to help fight Parkinson's disease (PD). If you haven't heard of it by now, it's called Pickleball—a combination of tennis, badminton and ping pong that's played on a regulation court (either indoor or outdoor) with specially designed paddles and balls.
Pickleball is a good therapy for PD because it combines hand and eye coordination with simple movement, which helps those diagnosed with the disease manage their symptoms and continue to live a normal life.
Barry Beitsinger, 70, of Economy Borough not only enjoys the game but also the health benefits he has derived by playing it. Diagnosed three years ago with Parkinson's Disease, in the sport has kept him limber and active. "Pickleball allowed him to stay off of meds for about a year or so, and because it keeps him moving, it keeps his symptoms at bay," his wife, Laurel, comments.
Here's how the game is played: Two, three, or four players use solid paddles made of wood or composite materials to hit a perforated polymer ball, similar to a wiffle ball, over a net. The sport shares features of other racquet sports, the dimensions and layout of a badminton court, and a net and rules similar to tennis, with a few modifications. The same court is used for both singles and doubles play. The net height is 36 inches at the sidelines and 34 inches in the middle. The court is striped similar to a tennis court with right and left service courts and a seven-foot non-volley zone in front of the net. Courts can be constructed specifically for Pickleball or they can be converted using existing tennis or badminton courts.
Want to give it a go? Check out the sidebar for a listing of places to play Pickleball. For those who know the game, consider participating in the GAMMA Pickleball Classic from June 23 to 25 at the David L. Lawrence Convention Center in downtown Pittsburgh. Tournament proceeds benefit the Parkinson Foundation Western Pennsylvania. To learn more, visit pickleballclassic.org.

One final fun fact: How did Pickleball get it's name. Well, the sport was invented by a man in Washington State in 1965 who happened to have a family dog named Pickles. The dog would run after the ball all the time, so he named the sport Pickleball.
If interested in learning more about Pickleball, contact your local YMCA. To learn more about the sport, visit the United States Pickleball Association at usapa.org or visit pfwpa.org/services-and-programs/exercise-and-lifestyle/parkinsons-and-pickleball.html.

Feature photo caption: Pickleball helps Barry Beitsinger stay healthy.
By Gina Mazza
For Pittsburgh Senior News

Where to play Pickleball around town
Keystone Health Club East Pittsburgh: 655 Braddock Ave. Contact Gail Evans-Potter at (412) 349-0777. Free to members; $6 drop in. Keystonehealthclub.com.

Sampson Family YMCA Holiday Park: 2200 Route 286. Contact: Mike Monstrola at (724) 327-4667. Free to members; $5 for guests. Ymcaofpittsburgh.org/Sampson.
Allegheny Valley YMCA Natrona Heights: 5021 Freeport Rd. Contact James Kuhn at (724) 295-9400.$5 for non-Allegheny Valley YMCA members. Visit avymca.org.

Shenango Township Park New Castle: Route 65. Contact Mickey Dorman at (724) 622-5602. Visit shenangotownship.com/index.html.
JCC of Greater Pittsburgh: 5738 Forbes Ave. Contact Alan Mallinger at (412) 697-3500. Free for JCC or JCC-registered Silver Sneaker members; $5 for guests. Visit jccpgh.org.

JCC South Hills Scott Township: 345 Kane Blvd. Contact Elaine Cappucci at (412) 278-1975. $2 for members; $4 for non-members.
Ross Community Center: 1000 Ross Municipal Dr. Contact Pam at (412) 931-7055. $4 for residents; $5 for non-residents. Visit ross.pa.us/ross-municipal-center-park.
Baierl Family YMCA Sewickley: 2565 Nicholson Rd. Contact Jim Evanochko or Scott Desmond at (724) 934-9622. Free for members; $5 for guests. Visit ymcaofpittsburgh.org.

Sewickley Valley YMCA: 625 Blackburn Rd. Contact Karen Hallisey at (412) 741-9622. Free to members; $5 for guests. Visit sewickleyymca.org.

Pennsylvania Tennis Academy Wexford: 119 Neely School Rd. Contact Kelly at (724) 799-8450. $30 per month; $5 drop in. Visit patennisacademy.com.

Greenfield Citiparks Rec Center: 745 Greenfield Ave. Contact Ed Ulrich at (412) 422-6551. Free. No Fee. Visit pittsburghpa.gov/citiparks/magee.
Laurie Ann West Community Center: 1220 Powers Run Rd. Contact Kathy Demetri at (412) 760-6520 Free for members; $5 for non-members (Fox Chapel residents) and $10 (non-Fox Chapel residents). Visit lauriannwestcc.org.

101 West Penn Citiparks: 450 30th St. Contact Steve Rothhaar at (412) 622-7353. $3 per day or 5 sessions for $10. Visit pittsburghpa.gov/citiparks/west-penn.

Penn Hills YMCA Pittsburgh: 11817 Frankstown Rd. Contact Maria Piantanida at (412) 241-2747. Free for Sliver Sneakers registered members and YMCA members; $5 per day/ $32 per month for guests. Visit ymcaogpittsburgh.org.

Ormsby Citiparks Rec Center: 79 S. 22nd St. Contact Erin at (412) 488-8306. Free. Visit pittsburghpa.gov/citiparks/ormsby.
Richard G. Snyder YMCA: 1150 N. Water St. Kittanning. Contact Liza Brochetti at (724) 664-6828. Free to members. Visit rgsymca.org/.
The Edgewood Club: One Pennwood Ave. Contact Ron Gallagher at (412) 731-3443. Visit edgewoodclub.com.