Are you 55 or older and looking for a worthwhile and satisfying volunteer experience? Would you be able to commit 15 hours per week of your time to help older adults who could benefit from a friendly visitor?
If so, the Senior Companion Program of Allegheny County could be a good fit for you, and the benefits you receive through this experience may just exceed your expectations. As one volunteer recently expressed, "Being a Senior Companion in this program is a sort of therapy for me because it gets me moving and active, and gives me a purpose for tomorrow. The older adults that I visit make me smile! They always tell great stories."
The program provides supportive in-home services to homebound older adults in order to allow them to remain living independently for as long as possible. This aligns with the overall mission and vision of the Department of Human Services Allegheny County Area Agency on Aging (DHS/AAA), which is "to help Allegheny County residents ages 60 and older to live independent lives."
How the Program Works
Senior Companion volunteers provide friendly visits once or twice a week to older adults with various health issues, as well as older people who are lonely and could benefit from a friendly visitor. Program participants receive many benefits, including increased socialization, decreased loneliness, better functioning at home, and a friend they can count on.
In addition, Senior Companions can provide much-needed respite for family members who may be experiencing stress and burnout as a result of their caregiving duties. Another volunteer in the program especially likes this part of her work: "Besides being a Senior Companion to my clients, I really enjoy giving peace of mind and respite to their families. It means so much to them."
Senior Companions are matched with three to five participants within their own geographic area, who they agree to visit on a regular basis. The Senior Companion and the participant decide on the weekly schedule of visits. Each visit is typically three to four hours, but it is up to the participant as to how long he/she would like the Senior Companion to stay. Visits take place during normal business hours, Monday through Friday; there are no evening or weekend times. The schedule is up to each Senior Companion, provided that he/she is able to commit to serving at least 15 hours per week.
It is important to note that the primary role of the Senior Companion is to be a friendly visitor. It is not to perform functions such as housekeeping, administering medications, or personal care assistance such as bathing, feeding or dressing. Also, while it is hoped and expected that most matches will be successful, both the participant and the Senior Companion are free to terminate the arrangement at any time if it is not a good fit.
Program Benefits
The Senior Companion Program is a volunteer opportunity, not a job; however, Senior Companions receive benefits that make it an attractive volunteer opportunity:
• Tax-free stipend of $2.65 per hour, paid every two weeks
• Travel reimbursement to cover the cost of travel
• Meal allowance to cover lunch cost while in volunteer service
• Liability insurance
• Ongoing professional supervision
• Free monthly training on a variety of topics relating to older adults
Since the stipend is not considered income from employment, it has no negative effect on benefits an individual may receive, such as Social Security disability, Food Stamps or subsidized housing.
While these benefits are nice, they pale in comparison to the joy, satisfaction and other personal benefits that Senior Companions say they derive from helping others. "I find that giving time to people who are homebound is rewarding for both myself and them," says one Senior Companion. "It gets me out of the house, and keeps me moving and exercising for my health," comments another volunteer. "It also gives me the chance to help somebody else."
Eligibility Criteria and Application Process
For those interested in applying, please note that while previous experience working with older adults is helpful, it is not necessary. More than anything else, the program is seeking people with caring personalities who have a genuine interest in helping older adults. Please note that while the program currently has openings, not every applicant can be accepted, since we look for qualified applicants within specific geographic areas where Senior Companions are most in need and where volunteers are willing to serve. These areas typically include:
• Western Allegheny County, including McKees Rocks/Coraopolis/Moon/Robinson
• North Hills (Wexford, Allison Park, Gibsonia, Shaler, O'Hara, etc.)
• Route 28 corridor (Tarentum, Cheswick, Springdale, etc.)
• South Hills (Bethel Park, Dormont, Castle Shannon, etc.)
Senior Companions must meet certain income guidelines. Annual income should not exceed 200% of the federal poverty guidelines. For a single person, this is approximately $23,300 per year, and for a two-person household, this amounts to about $31,500 per year.
Since visiting older adults in their homes involves a great deal of trust, applicants undergo extensive criminal background checks, including checking the public sex offender registry, a Pennsylvania state police check, and an FBI check that includes fingerprinting. The agency, not the volunteer, pays for these background checks.
Training Begins in April
The next Senior Companion training class will be held in early April at the Department of Human Services Building downtown. Training is provided on four consecutive days, and lunch is provided on all four days.
Won't you consider brightening someone's day just by giving your time? "What I like most about being a Senior Companion is going to the clients' homes and when I walk in the door, they are so happy that I'm there!"
To apply to become a Senior Companion, please call program manager John Miller at (412) 350-4061.
By John Miller
For Pittsburgh Senior News
What volunteering means to Senior Companions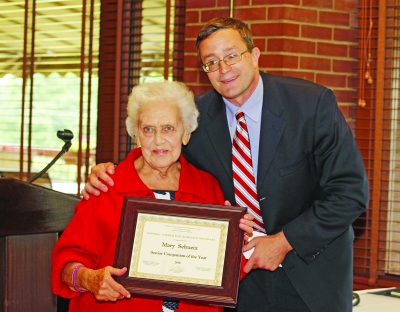 Senior Companions were asked, "What do you find most satisfying about being a Senior Companion volunteer?"
These are their answers.
• Meeting new people. Learning new things. Getting out of the house.
• Making a difference in people's lives. This program makes me get up and out when I sometimes don't feel like doing anything.
• The program is good for me. It gets me out of the house daily and makes me feel needed.
• Gives me great satisfaction to be able to help homebound clients. Making the client comfortable and enjoying talking, playing cards or any activities they enjoy make us both feel better.
• Feelings of satisfaction in knowing my visits help the consumer and family. Being more active in my life.
• Making people happy.
• Participants are very welcoming and happy when I go see them. It is rewarding for me just to see a smile on their faces. It also prevents me from being lonely or depressed myself.
• Helping others not feel lonely. Giving hope towards their future.
• Helps you develop a positive attitude when you see others accepting their disabilities with dignity and respect.
• Helping to make someone happy.
• It is rewarding to me by helping others to feel less lonely and that they have someone to rely on.
• The proud sense of serving a consumer who has shown positive improvement in quality of life and improved overall health. The smiles on their faces when I arrive for our visit.
• When I leave my client's home and drive to the next visit, I feel so good from the experience. I feel I have more energy because I have more things to do.
• Makes me feel young. Makes me feel important. Something to look forward to.
• Being a comfort to someone. Feeling needed.
• My consumers look forward to my visits. They see me as a friend rather than just a county representative.
I'm able to get out of the house. I would not always have places to go if I did not participate in the program. I meet new people at the meetings.
• I make a difference in people's lives. It makes me happy to know that my clients look forward to my visits.
For more information about the Senior Companion Program, please contact John Miller at (412) 350-4061.