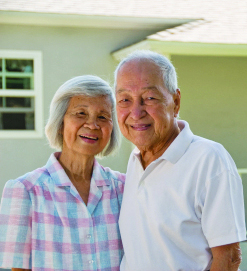 Application forms for the Pennsylvania Department of Revenue Property Tax/Rent Rebate Program have been extended for eligible residents to begin claiming on property taxes or rent paid in 2015.
The rebate program benefits eligible Pennsylvanian's age 65 and older; widows and widowers age 50 and older; and disabled persons over the age of 18. The income limit for the program is $35,000 annually for homeowners and up to $15,000 annually for renters, with half of social security income excluded.
The maximum standard rebate is $650, but supplemental rebates for qualifying homeowners can boost rebates to $975.
Property Tax/Rent Rebate Income Eligibility:
Homeowners: Income Maximum Standard Rebate
$0 to $8,000 $650
$8,001 to $15,000 $500
$15,001 to $18,000 $300
$18,001 to $35,000 $250
Renters: $0 to $8,000 $650
$8,001 to $15,000 $500
Each resident who prepared and filed a paper application last year, and did not utilize computer software to do so, should have received a 2015 application form by February 28. Renters who prepared claims last year using computer software rather than the PA-1000 booklet received letters by mail reminding the resident to apply for a 2015 rebate, and providing them with two copies of the PA-1000 Rent Certificate, and Rent Rebate application.
Applications are also available online at Revenue.state.pa.us or by calling (888) 222-9190.
Older adults must reapply for rebates every year because rebates are based on annual income and property taxes or rent paid each year.
It costs nothing to apply for a rebate. Application forms and assistance are available at no charge from the Department of Revenue district officers, state legislators' offices, and locally through the Butler County Area Agency on Aging.
The Butler County Area Agency on Aging provides application assistance at the Area Agency on Aging offices located at 111 Sunnyview Circle in Butler. It is recommended that interested applicants make an appointment ahead of time by calling the Butler County Area Agency on Aging directly at (724) 282-3008.
The deadline to apply for a rebate on property taxes or rent paid in 2015 is December 31, 2016. Rebates will be processed and distributed up to one month after the application has been filed.
More than $297 million in property tax and rent rebates have been sent to more than 587,000 homeowners and renters across the state for taxes and rent paid in 2014. The department wants all eligible Pennsylvanians to apply for and receive rebates through this program, but cautions that fraudulent or falsified rebate claims will result in a denial of rebate.
The Property Tax/Rent Rebate program is supported by the Pennsylvania Lottery and revenue from slots gaming. Since the program's 1971 inception, older adults and adults with disabilities have received $5.4 billion in property tax and rent rebates.

Applying for Property Tax/Rent Rebate is easy. Call (888) 222-9190 or visit Revenue.state.pa.us. Pick up an application at your local legislator's office or at the Butler County Area Agency on Aging, 111 Sunnyview Circle, Suite 101, Butler, PA 16001.
By Brittany Buzzelli
Community Liaison/APPRISE Coordinator
Butler County Area Agency on Aging
For Butler County Senior News