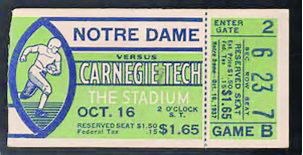 The year 1938 was the year of the Carnegie Tech Tartans. A fine season, which showed only one loss, culminated with the team being invited to play in the Sugar Bowl.
Now, when many people read about Carnegie Tech football (Carnegie Tech became Carnegie Mellon in 1967), some people will think of undersized kids playing on the Division lll level. If they had the opportunity to have met Bill Kern, the Tech coach in 1938, they would change their minds. The heart and soul of any football team is the coach, and Carnegie Tech couldn't have asked for better.
Bill Kern was a true athlete, and while playing for Jock Sutherland at the University of Pittsburgh, he also learned how to coach. It is interesting to note that Kern originally went to Pitt on a baseball scholarship, but when Sutherland met him for the first time Kern's plans soon included football.
Kern played tackle and he played well enough to be named All-American in 1927. When he left Pitt he played one year of professional football for the Green Bay packers. Kern was also a noted handball player, winning many awards.
In 1930 he returned to Pitt and coached the line. Eventually, he became Sutherland's main assistant coach.
Football people were always interested in the activities atop Pitt's Cardiac Hill, especially those people across the way in Schenley park. Bill Kern was well respected and the people at Carnegie Tech wanted him to be their coach. He was hired by the Tech Administration in 1937.
Kern's first act as head coach was to hire Eddie Baker, Muggsy Skladany and Frank Kutz as assistant coaches. Unfortunately for Kern and his assistants, the Tech Administration decided to make changes with their athletics. They decided to downsize the football program in every aspect but the schedule shortly after Kern was hired. Kern would still face top ranked teams, but he would have less material to fight with.
In 1938 Tech surprised the football world. Among its victims were a powerful Holy Cross team and Kern's old employer, the University of Pittsburgh. Only a 7-0 loss to Notre Dame spoiled a perfect season.
A controversial call did play a big part in the loss. Tech was faced with a fourth and short on their 46 yard line when referee John Getchell told Tech quarterback Paul Friedlander it was third and short. Friedlander told the referee that the scoreboard showed fourth down when Getchell said, "I'm the referee here, not the scoreboard." Tech ran a running play which did not pick up the first down.
Getchell then informed the Tech quarterback that it had really been fourth down and awarded the ball to Notre Dame. This sent the Tech bench into a frenzy, but the referee held his ground. Notre Dame took advantage of this gift and scored in three plays.
Mel Cratsley, a Tech player on the 1938 squad, remembers that play. "After the running play didn't pick up the first down we went into our huddle getting ready to punt, but the Notre Dame players were in their huddle getting ready to run an offensive play. None of us knew what was going on, but that call did cost us a scoreless tie."
Tech was invited to play in the Sugar Bowl held on January 2, 1939. They went up against a strong Texas Christian team which featured Heisman Trophy winner quarterback Davey O'Brien. Tech led at the half, but with O'Brien passing for 225 yards on 17 of 28 passes, Tech could not keep up with the Horned Frogs. The final score was TCU 15, Tech 7.
In 1938 Tech won the Lambert Trophy (best team in the East) and Bill Kern was named Coach of the Year. He would stay on at Tech one more year before moving on to coach at West Virginia. That year would prove to be the greatest in Carnegie Tech's football history.
By Henry Peter Gribbin
For Pittsburgh Senior News