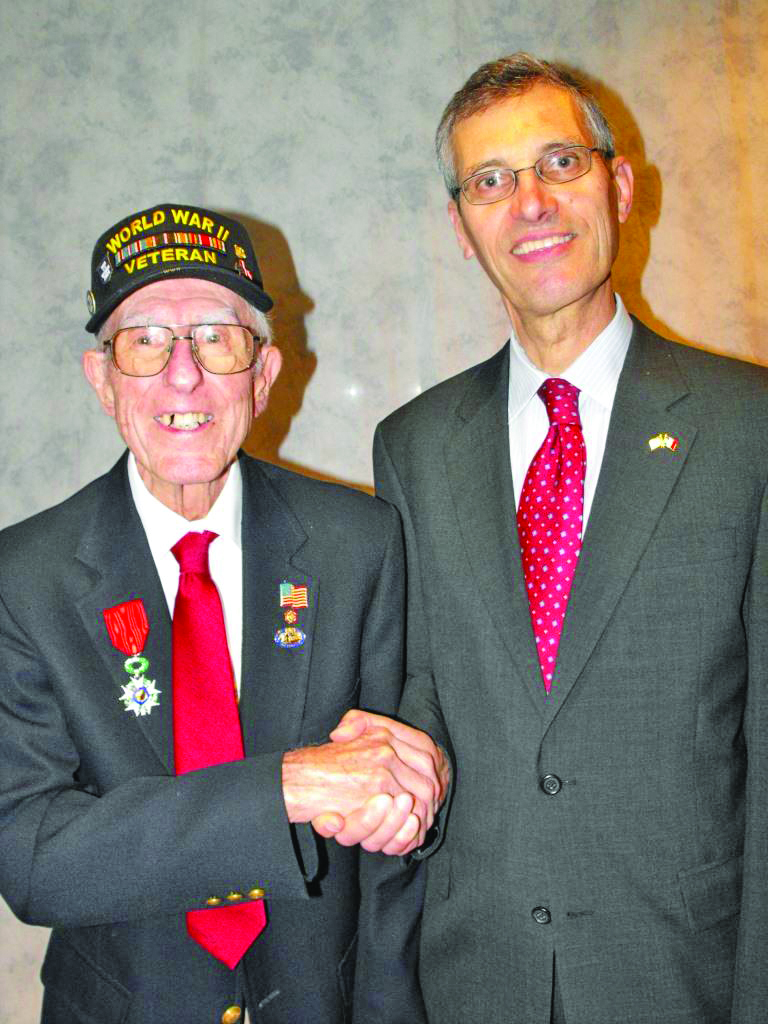 Over seven decades since he last heard the sounds of battle, a life member of Veterans of Foreign Wars Post 914 Intrepid West Mifflin was recently awarded France's highest distinction to honor his military service. Flanked by family members and surrounded by fellow members of his community and young cadets, the 91-year-old former soldier stood at attention once again as the medal was pinned to his jacket.
Glenn E. Kempf of West Mifflin has been named Chevalier of the Legion of Honor by the French Republic. He received the award for his actions as a soldier in the United States Army while serving in Normandy and the Ardennes.
Kempf's combat duties began while assigned to the 45th Field Hospital as a medical technician. He landed in Normandy June 7, 1944, on Omaha Beach. He also participated in the Battle of the Bulge. According to Kempf, the memory of his service is still strong after more than 70 years. "We were the first field hospital to land at Omaha Beach," Kempf says. "When we landed, boats were still exploding on mines and artillery shells were falling around us."
Despite being a medical unit, the 45th Field Hospital often came under fire as it traveled along with Allied troops through France and Belgium. Kempf said the unit lost several enlisted soldiers, as well as a few commissioned officers. Included with those casualties was 2nd Lt. Frances Y. Slanger, the only United States Army nurse to be killed in enemy action during World War II in Europe.
Kempf said he was there when it happened. During a heavy rain Oct. 21, 1944 in Elsenborn, Belgium, the 45th Field Hospital was shelled by German artillery. As the area was considered safe prior to the attack, Kempf and his fellow soldiers weren't ordered to dig foxholes that would have helped shield them from the explosions and deadly shrapnel.
As they were in a medical unit, the soldiers also weren't issued any offensive weapons that may have helped them fight the enemy. Their only option was to throw themselves on the muddy ground and wait for the shelling to stop. Slanger was one of three soldiers from the 45th Field Hospital killed in the attack.
Kempf stayed with his unit throughout the war until his discharge on December 12, 1945. Among the other awards and decorations Kempf earned for his military service are the European African Middle Eastern Campaign Medal with five battle stars, the World War II Victory Medal and the Good Conduct Medal.
The letter Kempf received from the French Embassy notifying him of his selection for the Legion of Honor echoed favorably to his other military tributes. "I would like to take this opportunity to express the French Government's deepest gratitude for your courage," comments Franck Roy, chief of staff to the French ambassador to the United States. "We are forever grateful to the men and women who fought for our freedom and to whom we owe it today."
Kempf is a graduate of the Scotland School for Veterans' Children. Following his discharge from the Army, Kempf worked as a machinist for the Continental Can Company, from where he retired after 30 years of service. An active member of Holy Spirit Church in West Mifflin, he has eight grandchildren and 11 great-grandchildren.
Kempf was invited to receive his award during a formal ceremony to be held at the French Embassy in Washington, DC but because of his age and health, VFW Post 914 was requested by his family to make arrangements to have his medal presented in West Mifflin. The Honorary Consul of France in Pittsburgh, Jean-Dominique Le Garrec, presented Kempf the Chevalier of the Legion of Honor on behalf of Michel Charbonnier, Consul General of France, at the Westwood Golf Club during the West Mifflin Area High School Air Force JROTC Military Ball Banquet.
Pennsylvania House Representative Bill Kortz and West Mifflin Mayor Chris Kelly were among the civic leaders who attended the ceremony. Several of Kempf's comrades from VFW Post 914 were also at the event. Many were in uniform and wearing awards and decorations of their own.
"We are immensely proud to have helped make this ceremony possible," says Jake Bradich, an Iraq War veteran and commander of VFW Post 914. "Everybody came together because they knew what a great honor this is for both Mr. Kempf and the community."
For Le Garrec, presenting the medal to the West Mifflin veteran had a personal note. "My father served in the French army, and was captured by the Germans in 1940," Le Garrec says. "He was a prisoner until he was freed by the Americans during the invasion of Germany."
The French Legion of Honor was established by Napoleon Bonaparte in May 1802. It is the top decoration bestowed in France. To earn the Legion of Honor as a United States veteran, recipients must have fought in at least one of the three campaigns to liberate France in World War II. The award is not given posthumously.
Michael P. Mauer is a Life Member of Veterans of Foreign Wars Post 914 Intrepid West Mifflin. He was awarded the Joint Service Commendation Medal by Gen. H. Norman Schwarzkopf for his actions as a military reporter in Operation Desert Storm.
By Michael P. Mauer
For Pittsburgh Senior News