By Kimberly Blaker
When a loved one struggles with fine motor control or other physical and cognitive challenges, it can make getting dressed in ordinary clothes difficult. As a caregiver, if you're assisting a family member with dressing, you may be in search of clothing options that make the process easier.
Many options are available nowadays to fit specific needs and fashion preferences. Here are some common features and adaptations to look for.
Alternative Fasteners
Traditional clothes fasteners like buttons and zippers can be difficult for the elderly and for caretakers helping them quickly and easily secure clothing. It takes a lot of fine motor control and hand and finger strength to grab and manipulate small parts to fasten clothing together. Common alternatives include Velcro and magnet fasteners along the seam. These types of fasteners can also be opened more quickly in case of an emergency.
• Tommy Hilfiger has an adaptive line with many features, including a whole section for easy closures like magnets, Velcro and one-handed zippers.
• Buck & Buck is an adaptive clothing line that includes shirts for men that look like button-ups but uses Velcro in the front and Velcro cuffs.
• Target has adaptive clothing, such as the Velcro Side Fastener Bra with front closure for ease.
Openings on the back and side
As a caregiver, it can be easier to dress someone when the fasteners are on the back or sides of clothing, providing the wearer more privacy. Clothing items that open on the sides or back are much easier to put on and take off, even when the wearer is seated or lying down. Some pants also have back panels covered by a flap, making it easier to change adult diapers or use the restroom without undressing. Additionally, open-back clothing makes it more difficult for older people with dementia, Alzheimer's or other cognitive challenges to remove their clothing in inappropriate situations.
• Silverts has Alzheimer's Kits for women and men that include anti-strip jumpsuits with closures on the back.
• Ovidis has adaptive pants with back panel access, like the Sophie pants for women.
• Buck & Buck has a large selection of all types of clothing with closures on the back.
• Joe and Bella has an adaptive line with rear closure clothes, like the Open-back Adaptive Fleece Sweatshirt, eliminating the need to pull it over the head.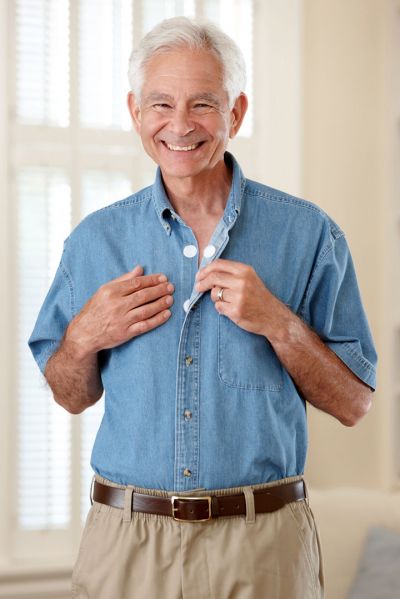 Workaround medical devices
Older adults may require specific medical devices like braces, catheters, monitors or wheelchairs, which may interfere with their clothing. Some clothes are explicitly designed to work around wearable devices.
• Silverts has wheelchair-specific clothing like the Wheelchair Gabardine Pants for Men. These allow you to dress from a seated position and are designed to keep everything covered while sitting.
• Elder Wear and Aids has a wheelchair-friendly adaptive clothing section with pants, dresses, shirts and more.
• Buck & Buck offers urinary catheter clothing, which allows for easier access when emptying or checking the collection bags.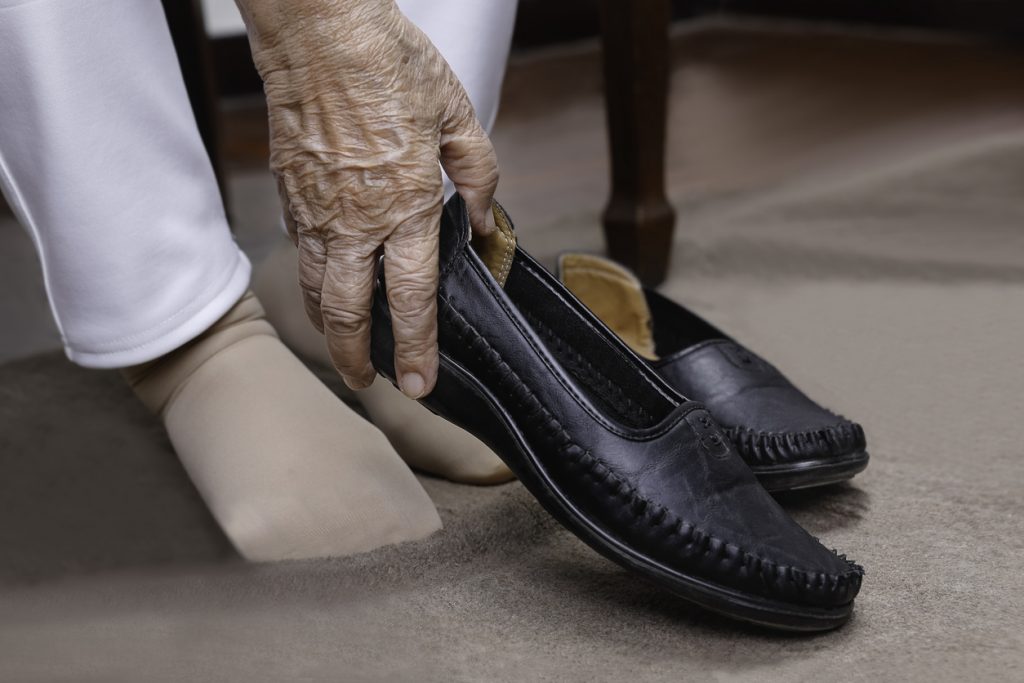 Adaptive Footwear
Whether you need outdoor shoes for leaving the house or slippers to prevent falls indoors, proper footwear is essential. Shoes should have a wide opening to be easy to get on and off and have a simple fastener. They should also have enough room for potential swelling, be stable and non-slip, padded to reduce foot stress, easy to walk in, and fit around braces or any other devices around the foot.
• Nike has an adaptive sneaker line called Flyease that is easy to put on with one hand.
• Zappos has a section on its website where you can filter for all the adaptive shoe brands they offer in one place.
• Diabetes may benefit from Silverts diabetic footwear.
Kimberly Blaker is founder and director of KB Creative Digital Services. Learn more at kbcreativedigital.com.