A volunteer at North Hills Community Outreach helps a senior off NHCO's Free Rides for Senior Shuttle so she can go shopping.
For more than 20 years, North Hills Community Outreach (NHCO) has provided a variety of helpful and caring services to local seniors through their In Service of Seniors Program. This initiative helps older adults in northern Allegheny County ages 60 and older live healthy and safe with dignity in their homes. There are no income restrictions and the services are free.
"Many of our older neighbors have limited support in the area and simply need a little help to keep living independently, healthy and safe at home. A ride to the doctor, a trip to the grocery store, a cleared walkway, a friendly call, or a home safety check can make all the difference," explains NHCO's North Boroughs Outreach Manager Nancy Jones.
NHCO staff members and dozens of volunteers provide the following services to seniors living in northern Allegheny County.
Rides to essential appointments and shopping trips
A volunteer will use her or his vehicle to take seniors to medical appointments, grocery stores and other errands.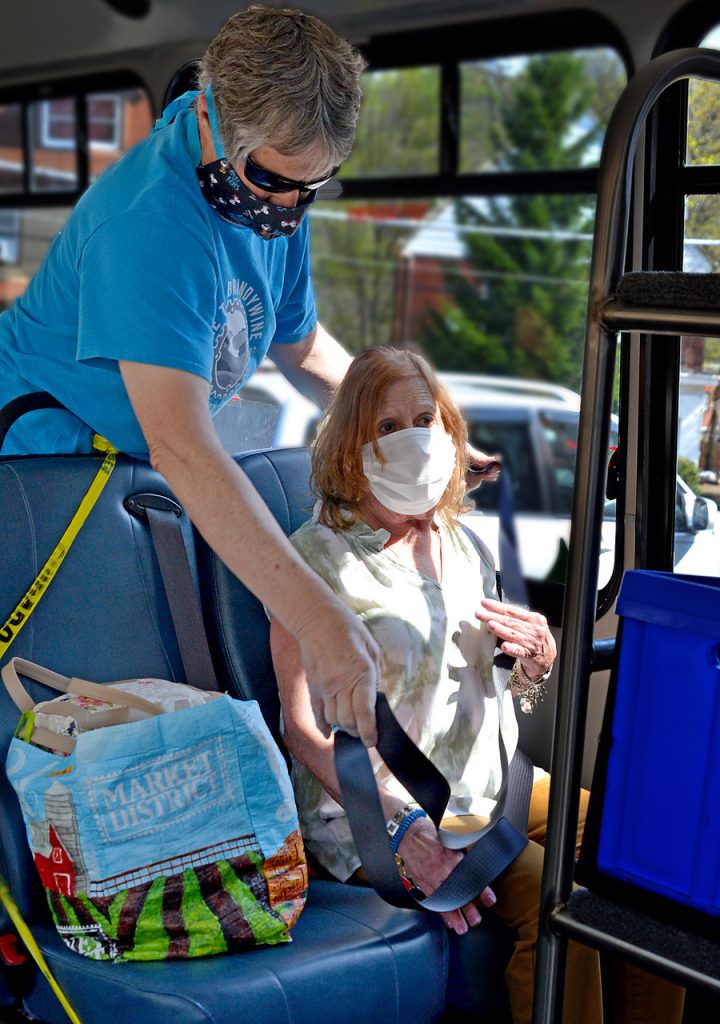 "My volunteer was on time and super-efficient, very dependable," says Susan, who uses this service for rides to a local hospital for experimental cancer treatment. "I had no worries with him either time I rode with him. I felt safe. I thank you so much for getting me to and from these very important appointments," she said.
Free Rides for Seniors Shuttle
NHCO's 10-passenger Free Rides for Seniors Shuttles provide transportation along most of the Route 28 corridor weekdays from 10 a.m. to 4 p.m. Seniors can get rides to medical appointments, grocery stores, UPMC St. Margaret, banks, pharmacies and many other destinations of critical importance.
Donna, a Millvale resident, does not have a nearby grocery store, and she does not drive. Luckily, the Free Rides for Seniors program can give her a lift. "I can count on that every week, so I don't have to worry," she shares.
Free Rides for Seniors Coordinator Tracy Elway arranges the trips and often rides along as a radio dispatcher. "I am so thankful to be a part of something that fills such an incredible need in the senior community, but also does so at no cost to the senior," Tracy comments. "This shuttle service, operated by caring volunteers, has really grown into a family offering so much more than just a free ride."
Home safety checks
Volunteers visit a senior's home to check for fire and fall hazards, install smoke alarms and make safety repairs and upgrades as needed. Earleen, 68, lives alone on a very tight budget and is prone to falls. This past summer, two volunteers checked her home and determined grab bars would help her maintain balance while moving and give her something to grab onto in case she slips. "I'm really happy that I'm able to reach out to somebody for help," Earleen says.
Telephone reassurance calls
Volunteers call seniors who live alone, ensuring they are safe and their needs are met, particularly during the COVID-19 crisis. Needs can include food, medicine, and other essentials. If they need anything, NHCO will arrange a way to get those goods or services to them.
"We want to be sure that our most vulnerable seniors are not experiencing isolation and loneliness and that they know they have someone they can call," comments North Boroughs Outreach Manager Nancy Jones.
For some seniors, hearing a friendly voice is all they need. "They've been really happy to hear from me," says Elaine, a volunteer caller. "One woman I've spoken with said she doesn't have anybody. She was just glad to hear my voice and happy to talk to somebody."
A lot of gratitude comes from the calls. "You have so many people, so many, that you're helping. Sue Johnson has been more than just a volunteer. She has called me to see if I needed anything, and I did. And she came, and she helped me," shares Deanne, a client who regularly receives calls.
To receive assistance through NHCO's In Service of Seniors North program or to volunteer, contact Cathy Pschirer at (412) 307-0069, ext. 3313 or email clpschirer@nhco.org. For more information about Free Rides for Seniors or to volunteer, contact Kerry Keegan Mulhern at (412) 449-0151 or kkmulhern@nhco.org; or Tracy Elway at (412) 449-0151 or tlelway@nhco.org.