By Gina Mazza
For Beaver County Senior News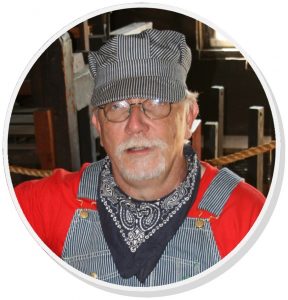 Mostly everyone knows the legend of Old Saint Nicholas but are you familiar with his companion, Belsnickel? In German folklore, Belsnickel is Santa's grumpy, disheveled alter ego. Dressed in tattered clothes, he is adorned with bells and dragging chains, and carries wood sticks. Yes, this "bad Santa" is a bit of a scary character, but it's all in good fun for children of all ages.
"As the legend goes, Belsnickel lives in the woods and is the keeper of the 'naughty or nice' book," explains Dave Aitken, 71, of Vanport, a retired railroad yardmaster for Penn Central and Conrail and longtime volunteer at Old Economy Village. "Santa works one night a year. He sits up in the mall greeting children and everyone loves him. Meanwhile, Belsnickel is out 364 nights a year doing all the legwork finding out who's naughty or nice—and he doesn't get any of the credit."
Every year at Old Economy Village, Dave makes sure that Bad Santa gets equal time in the spotlight as he brings Belsnickel to life. He will be on hand to delight children and adults alike during the "Christmas at the Village" open house on Saturday, December 1 and Sunday, December 2; and at a "Meet Belsnickel" event on Saturday, December 8 from 11 a.m. to 2 p.m. Throughout the month, the Village also hosts tours for young school-age children, where they can meet Belsnickel.
When Dave is not busy impersonating this Christmas character, he is spreading good cheer throughout the year in his community in various other ways. He serves as a team leader with AARP's Northwestern Pennsylvania region, which covers Armstrong, Beaver, Butler, Clarion, Crawford, Erie, Lawrence, Mercer and Venango counties. "Our team focuses on advocacy, which essentially provides education and information for older adults," he says. "We meet with federal, state and local elected officials concerning issues that affect people ages 50 and older. We have held town hall meetings and organized debates among our state candidates. We host events at senior centers on a wide range of topics, such the 211 community service number and healthy eating for seniors. Our team also sponsors the Presents for Patients program for the Alzheimer's Ward at Sunnyview Nursing and Rehabilitation Center in Butler, and we collect and distribute toiletry items for homeless and women's shelters. One of the mottos of our team is: We give a voice to the voiceless and remember the forgotten."
Dave also sits on AARP's Consumer Issues Task Force, which gives presentations on fraud prevention. "I specialize in Fraud Bingo, a game developed by the Pennsylvania Department of Banking and Securities in partnership with AARP. It's a fun, interactive way to raise awareness about the different types of fraud. If you spot a scam, you can stop a scam. We play Fraud Bingo all around at northwestern Pennsylvania, mostly at senior and community centers."
Dave also works with various human service agencies such as the Beaver County and Butler County Area Agencies on Aging, and belongs to several advisory and oversight committees for human service organizations. He also finds time to teach mature driver improvement courses through the Seniors for Safe Driving program.
While donning his Belsnickel costume every December is aimed at bringing lightheartedness into others' lives, as the current president of the Beaver County chapter of the National Alliance on Mental Illness (NAMI), Dave is acutely aware that the holidays can be a challenging time for some. "This time of year, people feel like they have to be happy, and that's just not the reality for everyone," he reminds us. "Please be aware that at this time of year especially, some may be struggling with depression."
When Dave is not volunteering, he can be found at the St. Joe Boat Club in Potter Township, where he puts in his Poke Boat to fish or just paddle on the Ohio River. "I enjoy taking photos of scenes along the river." In 2016, he published a book about the Little Saw Mill Run Railroad. "The railroad was largely financed and managed by the Harmonist Society. It ran just west of the West End Bridge through the West End, and up Banksville Road to just south of Wentzel Avenue," he shares. Titled The Little Saw Mill Run Railroad: It's Life and Times, the book is available for purchase at Old Economy Village's gift shop.
"I guess you could say I'm an amateur historian," Dave comments, adding that he belongs to several historical societies—the Beaver Lawrence County Railway Historical Society being one of them. "The society is renovating the former P&LE Railroad passenger station in West Pittsburg, Lawrence County.
"So I'm active in the community all year round, but Christmastime is my favorite because I get to be Belsnickel."
Originally from Banksville, Dave graduated from Bethel Park High School and has a son, daughter and three grandchildren who all live in the Pittsburgh area. He can be reached at rustyrail68@gmail.com.