"You're never too old to learn."
That's a comment from one of many Beaver County seniors who attend and enjoy the Lunch and Learn series at the Center at the Mall. For about the past two years, the center has been hosting the educational series, which incorporates socialization, learning and a delicious lunch.
"When we first started doing the series, the number of our members who would sign up for it was hit or miss. Maybe we had a dozen or so but within the last six months, we've filled every one of them to capacity, which is 30," says center coordinator Dallas Kerr. "The popularity of the program is definitely on the rise and we even have people on a waiting list now."
Goldie Twyford, 74, of Aliquippa, an occasional volunteer at the center, has found value in the programs that she's attended so far on the topics of fraud prevention and nutrition. "They are very informative and you always learn something new," she says. "The speakers are experts on their subjects and it's not just a boring talk. They are interactive and very effective. For example, with the gentleman who spoke on fraud prevention, the way he did it was really neat. He had a bingo sheet only it was called a fraud sheet. He picked numbers and whomever had that number called out the step to take to prevent fraud, like 'always check your bank statement.' It was fun and we learned all the latest tips."
The Lunch and Learn series is typically held from noon to 1 p.m. on a Monday. "It is not held every month; it varies, but it's held most months," Dallas explains. "The speaker gives the presentation while the attendees enjoy lunch. Topics have included health and wellness, nutrition, hoarding, declining vision, dehydration, Medicare plans and changes, insurance information, elder law and many others that are relevant to older adults. And since we're a senior center for ages 50 and older, some of our members are still caring for aging parents so the topics are important for them to know as well." As an added treat, a specially made dessert is part of the lunch series menu.
The next Lunch and Learn will take place on April 2. Information on estate planning will be presented by River Communities Fiduciary Services, Inc. and the Elder Law Offices of Olimpi & Kramer. On May 14, Center at the Mall's exercise specialist Heather Spinelli will discuss nutritional planning.
The series is for Center at the Mall members only. So if you're not yet a member, join in the fun!
Center at the Mall is located at Beaver Valley Mall Unit 284, Beaver Valley Mall Boulevard in Monaca. Due to the space limit of 30, pre-registration is required. Sign up at the center or call (724) 774-5654.
By Gina Mazza For Beaver County Senior News

Feature photo caption: Goldie Twyford and Center at the Mall's program manager Maureen Herrington enjoy the Lunch and Learn series.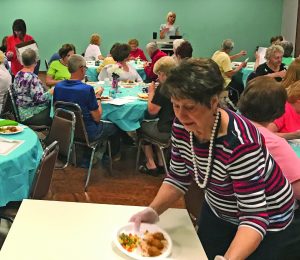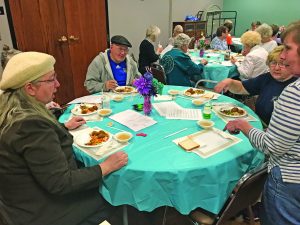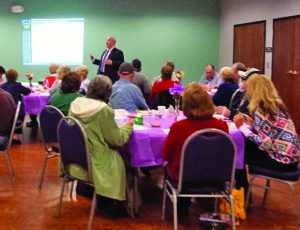 Photos provided by Center at the Mall for Beaver County Senior News.