This year's annual awards banquet for the Keystone Paralyzed Veterans of America—held on October 5 at the Hampton Banquet Hall in Gibsonia—combined entertainment, awards and prizes, and lots of good food.
Kurtt [sic] Robinson, the Pittsburgh-based national service officer for the Paralyzed Veterans of America, served as the banquet's master of ceremonies. Paralyzed Veterans of America national vice president Robert Thomas administered the oath of office to two re-elected members of the Keystone PVA Board: George "Murph" Neelan of Gibsonia and Bill Lightner of Hollidaysburg.
Keystone PVA President Jim Riemer of Butler introduced the chapter's board of directors then Kurtt introduced a number of distinguished guests, including State Senator Randy Vulakovich, State Representative Ed Gainey, and Butler VA Medical Center Director David Cord.  Also present and recognized were Mayor Richard Panza, Council President Karen Pastor, Fire Chief Lou Costanzo, and Borough Manager Bill Rossey, all from Sharpsburg, the borough in which Keystone PVA is headquartered.
At the event, veterans and their guests recognized the accomplishments and service of a number of local individuals and organizations that support paralyzed veterans in the area. Member John Kellner of Ford City was presented with the Sports and Recreation Award; Andrea Berkheimer, who works at the VA Medical Center in Altoona, was cited for her work as the center's spinal cord injury unit coordinator; Member Ben Williams was the recipient of the Volunteer of the Year Award; and American Legion Post 940 of West Brownsville was recognized with the Friend of Keystone PVA Award for its support of the chapter's Bass Tournament.
After the dinner and awards program, attendees enjoyed comedic entertainment (with a few magic tricks thrown in!) by Jim Henry, a VA Pittsburgh Healthcare System employee. The Albert Gallatin School District Junior Reserve Officer Training Corps presented and retired the colors at the beginning and end of the evening's events.
For more information about the Keystone Chapter of the Paralyzed Veterans of America, call executive director Joseph Dornbrock at (412) 781-2474 or visit kpva.org.
Lead photo caption: National PVA vice president Robert Thomas inaugurates George "Murph" Neelan and Bill Lightner for new terms on the Keystone PVA's board of directors.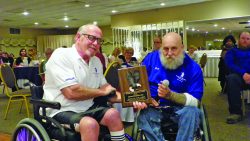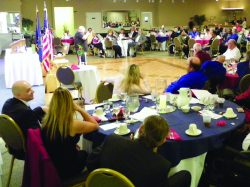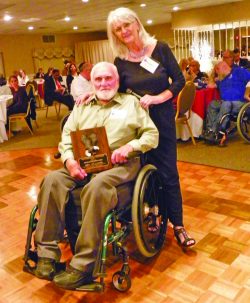 All photos provided by Joseph W. Dornbrock