Now that spring is here and the impulse is to get out and do something fun is strong, here's something interesting to add to your list of places to spend a leisurely morning or afternoon. Head over to the North Side and check out two unique shops that have plenty of playful, and even nostalgic, items for show and sale.
Bicycle Heaven
Bicycle Heaven, opened in 1996 (at its original location in Bellevue), bills itself as the "world's largest bicycle museum and bike shop." It all began when Craig Morrow found a discarded bike in a junk pile and decided to repair and sell it. From there, he continued to repair and sell used bikes, as well as collect more than 3,000 vintage model bicycles. Now located on the North Side, the bike repair shop has also expanded into a museum (added in 2011 by Craig and Mindy Morrow).
On any given day (they are open seven days a week), you can bring your bike into its very own heaven to be repaired or tuned up. If you're in search of a new set of wheels, you can trade in your bike for a newer (or older) bicycle in the store's inventory. Bike Heaven also rents out bikes; so if you're up for a day of light exercise along the Three Rivers Heritage Trail (which runs along all three rivers), get your gear there.
The museum—which is free to tour—houses more than 4,000 bikes, including a few used in movies filmed in Pittsburgh, such as A Beautiful Mind, Super 8, Fathers & Daughters, Fences and more. Don't miss the Pee-wee Herman bike from the movie Pee-wee's Big Adventure! Like Johnny's shop, Bike Heaven has an extensive collection of memorabilia and themed bikes that include The Beatles, Elvis Presley, Sports and Bobbleheads, local art and other rare items.
Bike Heaven is located at 1800 Preble Avenue and Columbus Avenue on the North Side. It is open every day from 10 a.m. to 7 p.m. To inquire, call (412) 734-4034, visit bicycleheaven.org or email bikeheaven@comcast.net.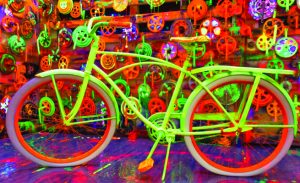 Johnny Angel's Ginchy Stuff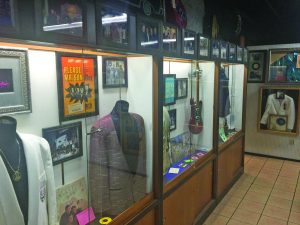 Do you love memorabilia from days gone by, especially nostalgic items from the music and entertainment industry? If so, you might think you've gone to retro heaven at Johnny Angel's Ginchy Stuff, a store owned by—you guessed it—local music legend Johnny Angel (as in "The Halos").
The store is a treasure trove of items from Johnny's 45-plus years in the music business. The inventory includes things like pennants, 45- and 78-inch vinyl records, MC Hammer and Vanilla Ice dolls, The Monkey's comic books, a Dick Clark American Bandstand shield pin, signed album covers from Donnie Iris, Ike Turner and Ben E. King, and autographed pictures from various notable musicians.
"Come check out my stuff," Johnny says. "I have been collecting since the 1950s and never stopped. If you are looking for that hard-to-find record, or something from your childhood that you thought was gone forever, check us out. I bet we have it!"
Johnny Angels Ginchy Stuff is located at 1800 Preble Avenue in R.J. Casey Industrial Park, North Side. The store is open every day from noon to 5 p.m. To view some of the store's items, visit jaginchystuff.com. To inquire, call (412) 322-1830.
Randyland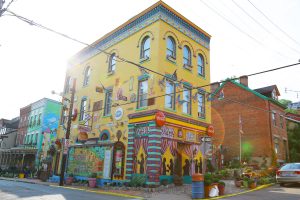 While on the North Side, don't miss visiting Randyland, uphill from the Mexican War Streets on the North Side. Randy Gilson began creating this very colorful section of town in 1982 when he started refurbishing the Old Allegheny Gardens. He's been expanding to other properties ever since. Every inch of space is festooned with art, artifacts, gardens and everyday stuff that Randy has created or repurposed. "One man's junk is another man's treasure," he says. Roughly 100,000 people from all over the world visit this happy place every year while in Pittsburgh. For more information, visit randy.land.
Other things to do on the North Side
Of course, the North Side and North Shore are where you will find Heinz Field and PNC Park (take in a Pirates game!), the Carnegie Science Center (take the grandkids!), The Andy Warhol Museum and the Mattress Factory (check out the latest and greatest art), the National Aviary (birds galore!) and the Children's Museum (also terrific for the grandkids). Top off the day with a refreshing snow cone at Gus & Yia-Yia's Iceball Stand on West Ohio Street.
By Gina Mazza
For Pittsburgh Senior News