Residents and visitors take to the streets for an Open Street festival.
Older adults in Allegheny County and the Pittsburgh region are fortunate to have a variety of senior housing options to choose from. One national housing rental company with a local presence is National Church Residences. Through their seven local communities (see listing, page 21), National Church Residences not only provides affordable homes and services to seniors, but many healthcare services, social activities and special events that enable their residents to live healthier, happier and more satisfying lives.
Over at Sharpsburg Tower, for example, residents recently took part in an "Open Streets" festival by participating in a bake sale, crafts sale and flea market. In doing so, they raised about $500 for Resident Council events, such as the annual summer picnic and catered Christmas dinner, as well as many seasonal parties in between.
The Tower's maintenance man and housekeeper took discarded poplar wood from handrails that were being updated in the building and "upcycled" them into beautiful picnic tables with attached benches. "He and other residents did this on their own initiative and so far, they've made three of them for residents to use around the grounds," says Janice Grey, service coordinator for Sharpsburg Tower and Shaler Oaks. "Our guys also planted and cared for a community garden for the residents this past summer. There's always something fun going on here. Residents are looking forward to a Halloween party that we'll be having at the end of this month. Basically, our goal is create a sense of family and community for our residents."
Over at National Church Residences' Parkside Manor in Brookline, the residence recently commemorated its grand reopening with a public event showcasing the manor's first significant upgrade since 1982. The $5 million in renovations include all of the apartment units, plus the addition of a fitness center, computer room, community kitchen, library and game room. A unique addition to Parkside Manor is an onsite medical suite on the building's lower floor.
Frank Mikan, maintenance man, is the taller guy on the left; Ed Frishkorn, housekeeper, on the right.

"We are honored to partner with National Church Residences to support this new medical suite, which will improve access to care and improve services that will help Parkside Manor residents live healthier lives," comments Allison Davenport, CEO of UnitedHealthcare Community Plan of Pennsylvania, which helped to fund the new medical suite. It includes a reception and waiting area, exam room, medical office, restrooms and an area for physical therapy. The facility is available to Parkside Manor residents and people in the local community.
"The addition of an onsite medical suite brings a renewed focus to health and wellness that will improve access to care," adds Michelle Norris, president of National Church Residences Investment Corp.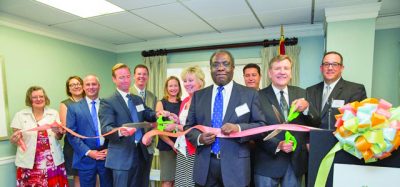 Representatives from National Church Residences, UnitedHealthcare and other organization partners gathered to celebrate a ribbon cutting ceremony announcing the Grand Reopening of Parkside Manor.

Exploring your senior housing options
Public housing is rental housing provided to income-eligible families, seniors and persons with disabilities. Public housing comes in all sizes and types—from single-family houses to high-rise apartments for seniors.  Public housing residents pay 30 to 40 percent of their adjusted gross income to rent, or a flat fee based on the unit for which they qualify. The type of payment depends on the way the building is funded, so contact the building you are interested in for information.
So how do you find senior rental housing? The Pennsylvania Housing Finance Agency (PHFA) is a good place to start. It offers the Affordable Apartment Locator, a free service that links consumers to affordable housing options throughout the state. It provides information about apartment locations, rental prices, accessibility features, development amenities and current vacancies. To learn more, call (877) 428-8844 or visit PAhousingsearch.com.
Information on senior housing is always available in our Allegheny County Senior Resource Guide, which is available for download at PittsburghSeniorNews.com. Also check out the housing facilities that advertise in Pittsburgh Senior News every month. Please be aware that some properties may have waiting lists.
By Gina Mazza
For Pittsburgh Senior News