You've probably heard the saying, "It's never too late to learn something new." Well, it's true, and doing so is easier and more fun than ever in Allegheny County. At Community College of Allegheny County, there's a lot to learn, all at very reasonable tuition rates, or even for free through the college's non-credit Community Education program.
The college offers hundreds of classes online and at their four campus locations: Allegheny Campus in Homewood-Brushton Center on the North Shore, Boyce Campus in Braddock Hills Center in Monroeville, North Campus in West Hills Center in McCandless Township, and South Campus in Washington County Center in West Mifflin.
There is literally something for everyone! Have you always wanted to learn how to play a musical instrument? Try guitar, piano or ukulele. Maybe you've always wanted to learn how to dance at weddings and parties. Yes, there's a class for that, as well as ballroom, swing, Latin, Country Western Line Dancing, Tap and more. Programs fall under general categories such as arts and crafts, music, business and career, computers, financial management and budgets, fitness and health, food and spirits, gardening, languages, mind and spirituality, pets and animals, real estate, sports and recreation, writing and much more.
The variety of classes enjoyed by the Baby boomer population varies widely, according to Elizabeth Sommers, director of Community Education, which offers the non-credit classes. "The cooking classes are popular, as are the aqua aerobics, but I would say the most informative and useful ones for seniors are the courses on 'Medicare 101', 'Senior Health Insurance' and one called 'Social Security: What You Need to Know'."
Maybe 2017 is your year to get savvy with your personal finances. The "Baby Boomer Retirement" course addresses how to make difficult retirement decisions, avoid financial pitfalls and other essential information. Or check out "Be Your Own Financial Planner", "Investment Strategies in an Uncertain Economy", "Protect Your Inheritance" or "Rejuvenate Your Retirement." There's even a class for "Women and Investing." Speaking of women, a popular offering is "Tool School for Women", where you can learn basic tool use and safety, and get on with your DIY home projects.
Technology classes are always popular, especially with older adults who are interested in keeping pace with today's ever-evolving computers and mobile devices. One popular class is "I Have a Computer . . . Now What?" In it, students learn how to set up and run their computers, including installing software, managing files, creating documents, using email and working within a Windows environment. Other classes include "iPad Basics", "Social Media" and "Private Tutoring."
Tasty courses include "Cake Decorating", "Chinese Cooking", "Gluten-Free Baking" and baking specialty cookies like Baklava and French Macarons. The "Friday Evening Supper Club" is a great opportunity to make new friends and bond over casual meals at some of Pittsburgh's most popular restaurants. There is even a "Beer Enthusiast 101" course for those interesting in brewing and imbibing this beverage.
Always wanted to learn acting or photography? Here's your chance to do so. Or how about painting, floral design, jewelry creation, holiday bow making, knitting or calligraphy? The Friday night "Life is a Caberet" course includes outings to local theater productions. If you're a gardening enthusiast, check out "Eco-Smart Gardens of Tomorrow", or other courses on growing vegetables, proper pruning techniques, critter-proofing your landscape and how to have the perfect lush lawn.
In addition to actual courses, CCAC has other resources for learning. Use of the campus libraries is open to the public. To borrow materials if you are not a student enrolled in credit courses, sign up for a community membership. The $10 yearly fee entitles you to borrow up to three items every two weeks. The library computers are also open to the public and can be used at no cost. The library computers have wireless Internet, which can be accessed via "CCAC guest." Again, if you are not a credit student, simply sign in as a guest and show a photo ID. CCAC's South campus has an extensive paved walking trail and the Boyce campus has a fitness trail. These trails are free and open to the public from dawn to dusk.
So stop putting off studying a new language, starting that small business or perfecting your CPR/First Aid techniques. Check out what's available at CCAC and keep learning!
Registration for Spring 2017 classes is now open and Community Education class enrollment runs through May. To enroll, call (412) 788-7507, email communityeducation@ccac.edu, walk into any CCAC campus between 9 a.m. and 4 p.m. Monday through Friday prior to class start date, or go to https://enrollcredit.ccac.edu. Classes are listed at shopcommunityed.ccac.edu. You may also register by mail at CCAC West Hills Center, Community Education Registration, 1000 McKee Road, Oakdale, PA 15071.
To learn more, call (412) 237-2511, email admissions@ccac.edu or visit ccac.edu.
Allegheny County senior centers offer older adult education
Can't get to a CCAC campus but interested in learning something new? Classes are being offered at most senior centers in Allegheny County through CCAC's Life Enrichment Program, funded by the Allegheny County Department of Human Services Area Agency on Aging.
"CCAC has a menu of classes to choose from, such as health and wellness, arts and crafts, languages and classes on topics of interest to seniors like Medicare," explains Community Training director Mary Jo Guercio. "Each semester, the roster of classes changes depending on the needs and wants of the individual senior centers."
To register, simply walk into your local senior center and inquire. You will be given a registration form to fill out. All classes are free to senior center members.
Dealing with a chronic health condition? Make "better choices for better health."
Put more life back in your life. If you're an adult with a chronic health condition (such as arthritis, high blood pressure, heart disease, diabetes or COPD) or are caring for someone who does, the "Better Choices, Better Health" program is a good "choice" for you.
This free, six-week series of workshops instructs participants on strategies for managing health symptoms and enjoying an improved quality of life. Through weekly sessions, the workshop provides support for continuing normal daily activities and dealing with the emotions that chronic conditions may bring about.
"Better Choices, Better Health" is a partnership between CCAC, Vintage and the United Way. It is being offered at more than 30 locations throughout Allegheny County. To learn more, call (412) 237-6582 or visit alleghenybetterhealth.org.
By Gina Mazza
For Pittsburgh Senior News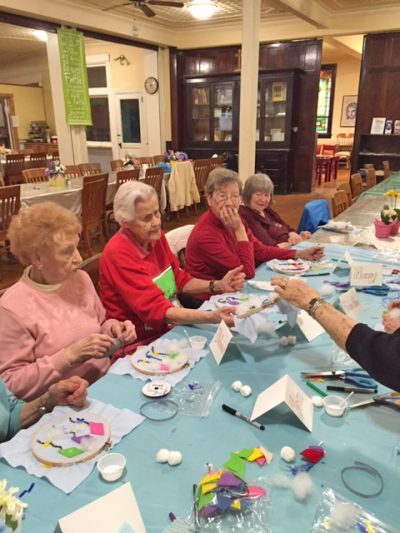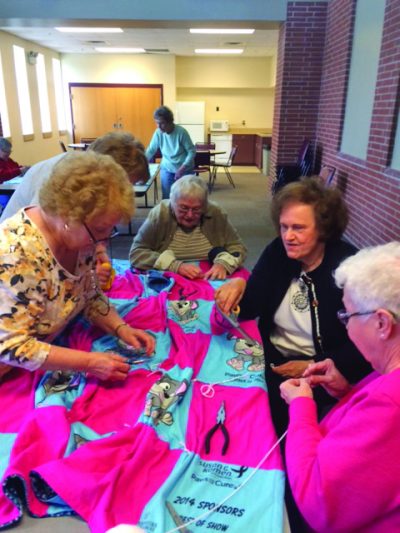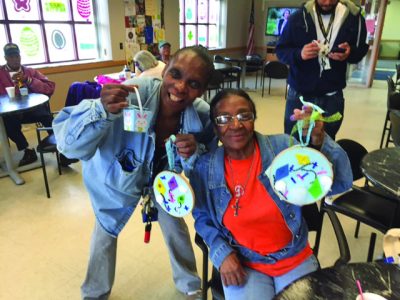 Photos provided by Beth Ison
for Pittsburgh Senior News