A local nonprofit organization called the Mrs. Claus Club is bringing both tangible and intangible gifts to men and women who've been diagnosed with cancer.
"We are a ministry that offers hope and encouragement by gifting cancer patients with comfort
baskets and personal visits," says North Hills president Jeana Watenpool of Ross Township. "When someone is diagnosed, the first question that is typically asked is, 'What can I do for this person'? Individuals can request that a basket be sent to someone they know," Jeana explains. The basket includes a notecard stating who is donating and gifting the basket to that person.
"The basket is filled with items that bring comfort during a very scary time in the recipient's life," she says. By networking with local cancer treatment centers, pharmaceutical representatives and doctors, the club is able to obtain the newest creams, mouthwash, lip treatments and other items on the market. Also included are a prayer shawl, journal, recipe book written for cancer patients, a bracelet, socks, a teacup, items to help soothe nausea, such as ginger candies, and resources for cancer support services.
If the recipient needs a wig, the club also gives a $150 certificate towards the purchase of a custom-made wig. "When battling cancer, even on 'good days', the mirror is a painful reminder of the person's struggle," says Jeana, who also volunteers at Gateway Hospice. "Our goal is to make sure the recipients realize they are not alone and to provide some sense of normalcy during a difficult time, even if only cosmetic."
The monetary value of each basket is more than $150, but far more valuable are the personal connections made and solace given. "Being able to sit with the recipient face to face is priceless," Jeana shares. "We ask how their journey is going and what's ahead for them. From that visit we bring encouragement to reduce the fear of their journey." The visits take place either in the recipient's home or where the patient is receiving chemo.
For Joe Gault of Aspinwnall, unexpectedly receiving the basket one day while he was receiving chemo was a welcome surprise. "There were items in there that were good to have and that I didn't even think about," Joe comments. "For example, the blanket came in handy because treatment centers tend to be chilly, and the hard candies helped when the medicine made me nauseous." Joe received the basket in 2014 and has been a member of the club ever since. "The visit itself was important but even more so has been the network that has developed as a result. Through my membership, I'm able to give back to others the gift that was given to me." Joe has been in remission for 18 months and feels "completely healthy and blessed, for sure."
The prayer shawl represents the anchor of the club's ministry. "The shawl maker begins with prayers and blessings for the recipient and these intentions are continued throughout the creation of the shawl," Jeana explains. "We pray over every stitch when we make them. Upon completion, a final blessing is offered before the shawl is sent on its way. We always ask permission to pray for the recipient at the end of our visits. No one has ever said no."
Recipient Gerri Morris of McCandless Township experienced the power of prayer when Jeana paid her a visit, as well as at other times in her healing journey. "The basket was simply a token," she says. "Jeana's ministry is to give you hope, comfort and get through something that you don't know how you are going to get through. When Jeana prayed over me, she laid her hand on my leg and I felt profound warmth spread through me. It has been a little over a year since I was first diagnosed.  I am now in remission and still carry the healing prayer that Jeana prayed over me that day."
There are three Mrs. Claus Clubs, each one acting independently. The nonprofit was started by a woman in Knox, Clarion County, who had a family member with cancer and was moved by how many people rallied around her to offer assistance. "She wanted to give back that same kind of support to others and since it was December, she thought of Christmas and the spirit of giving, and named the group the Mrs. Claus Club."
A second chapter formed in Bentleyville and the North Hills Club, the third chapter, started in 2009 when a close friend of Jeana's who had cancer received one of the comfort baskets. When another friend was diagnosed with cancer, Jeana remembered that basket and contacted the Knox chapter. They invited Jeana to the club's fundraiser.
"When I walked in the door, they asked me if I would consider starting a chapter in the North Hills and without even thinking, I said, 'Yes'," Jeana recalls. The timing was perfect, as she had recently retired from Del Monte Foods. "I just really felt that God led me to this next chapter in my life," she said. "For me, it is a God assignment."
Calling on the support of friends and members of her knitting group, Jeana began by collecting prayer shawls and other items for the baskets. In December 2010, the North Hills Club delivered its first basket and the number of deliveries has grown every year. In 2015, about 70 baskets were delivered; this year, the number had approached 100 by November.
The club's seventh annual fundraiser takes place from noon to 3 p.m. on Sunday, November 6 at the Cumberland Woods UPMC Conference Center, located at 700 Cumberland Woods Drive in Allison Park. Attendees are entitled to request a comfort basket for a friend, co-worker or family member. All money raised goes to the basket recipients. Anyone who cannot attend the fundraiser can send in a donation of $30 to request a comfort basket.
More than 250 members and volunteers serve the northern area, including Butler. Each board member has seen someone close to them struggle with cancer. The board members are Mindy Bogucki, Becca LaButis, Diane Paller, Cathy Pitassi, Angela Sefscik and Henny Weeden. The club is always in search of knitters and crochets to help with prayer shawls.
The club may have a seasonal moniker, but Jeana works at running it year round, gathering items, delivering baskets and hosting the fundraiser. "I am very passionate about our organization," Jeana comments. "My faith is everything to me. It's who I am in Christ.
"I favor the personal visits, and each delivery is special, blessed, anointed and with tears. I ask the Lord to guide me and I know in my heart that we're making a difference."
To inquire about the Mrs. Claus Club of North Hills, call (412) 367-8026, email MrsClausClubNorth@gmail.com or write to P.O. Box 621, Allison Park, PA  15101. To learn more, visit MrsClausClub.org.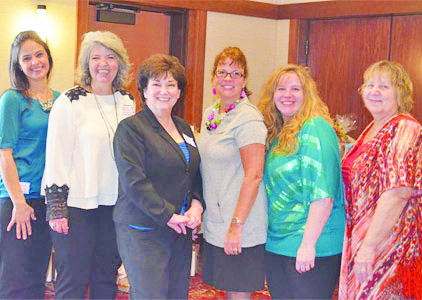 Mrs. Claus Club North Hills founder Jeana Watenpool with board members Angela Sefscik, Henny Weeden, Cathy Pitassi, Mindy Bogucki and Diane Paller.
Michelle Szitas loves the fleece blanket she won at last year's fundraiser.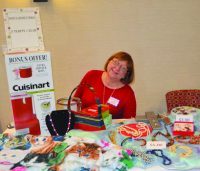 Stephanie Marks collects tickets for a raffle in honor of Kate Cuda.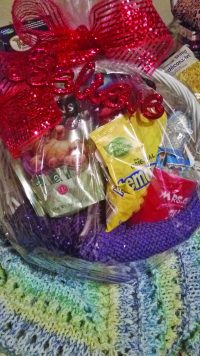 A typical Mrs. Claus Club comfort basket.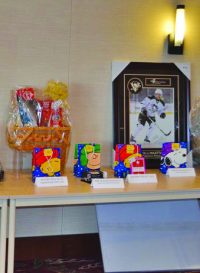 Baskets for the auction at the annual fundraiser.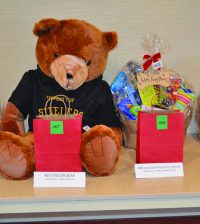 Baskets for the auction at the annual fundraiser.
By Gina Mazza
For Pittsburgh Senior News
Photos taken from MrsClausClub.org.