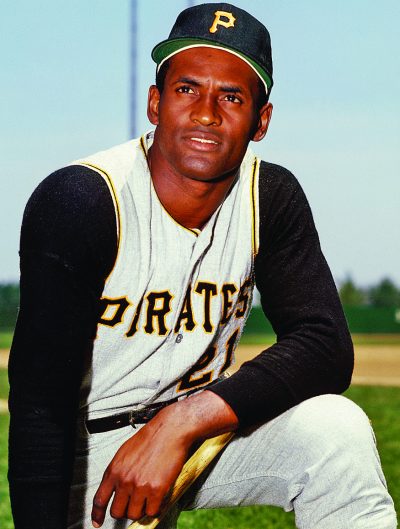 Roberto Clemente
I have a friend who is a big baseball fan. He likes to boast that in his younger days, he had the chance to watch Mickey Mantle, Willie Mays and Duke Snider play centerfield. I must admit that I am a bit jealous. I can say that I witnessed Mays play against the Pirates many times, but I would loved to have seen Mantle and Snider play ball.
Being a native Pittsburgher, I can boast that I have witnessed some pretty good athletes play while wearing Pittsburgh uniforms. My favorite of all time is Roberto Clemente. No one could match him playing the outfield. I remember one time, it was opening day in 1970, when one of the spectators came out on the field at old Forbes Field and walked towards Clemente. The game was stopped and all eyes were on this fellow to see what he was going to do. He walked up to Clemente and held out his hand. Clemente shook it and the man returned to his seat. I guess it was his way of thanking Clemente for all the great things he did while wearing a Pirate uniform.
In a previous column, I wrote about the great Mario Lemieux, star of the Pittsburgh Penguins. I do remember a game against the Edmonton Oilers and their star player Wayne Gretzky. This was one great matchup, two of the greatest stars in hockey. I was a young fellow and was able to get a ticket for this game. I think the ticket set me back about ten bucks. Anyway, the game ended in a tie but no one went home disappointed. We witnessed a great game.
For four years, Tony Dorsett wore the University of Pittsburgh uniform while playing football. I loved watching him run. Dorsett's best games came against Notre Dame when he was a junior at Pitt and ripped through the Irish defense for 303 yards. The game was held at old Pitt Stadium. I was in attendance and like every other fan was in awe of this performance. It was one of those games that will go down in college football history. The following year Dorsett helped lead Pitt to a National Championship.
While I was a big Pitt football fan, my allegiance in basketball belonged to Duquesne University. In the 1970s, no college basketball player performed better than Norm Nixon. He was a great all around player, a very unselfish player. He would go on to leave his mark in the NBA, but I do remember watching a game where Nixon took an intentional technical foul. It was his senior year, late in the season. The Dukes were winning late in the game when Nixon took control of the ball, dribbled down court and made a reverse slam dunk. The crowd loved it. He received a technical because at that time, dunks were not permitted in college basketball. He said he did it because in four years of unselfish play he just wanted once to have the spotlight on him. He deserved it.
So you see, my friend had his moment in the sun while watching Mays, Mantle and Snider, but I've had my moments, too. I don't think I would trade with him.
By Henry Peter Gribbin
For Pittsburgh Senior News