Getting in and out of a car can be a challenging activity for some people. General weakness, poor balance, and stiff or painful joints can make it difficult to safely sit down and rise from the car's seat. Often, the design of the car itself provides no stable options for hand support. Because of this difficulty, individuals may be reluctant to leave home and go out into their community if they have to travel by car; or, they may only travel when they are with others who can assist them.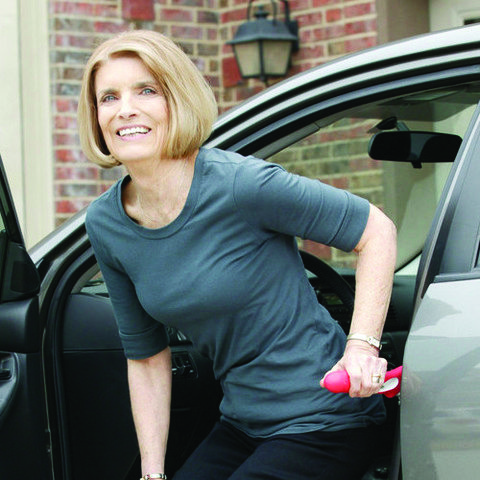 Luckily, there is a tool on the market that solves this problem. The Handybar is a device created to increase the ease, safety and independence of getting in and out of a vehicle. It is simple to use, easy to install and remove, and fits most vehicles. The device has a non-slip rubber handle and a solid metal extender. When the car door is open, the metal extender is fully inserted into a U-shaped latch that is located on the frame of the car (not the door) with the rubber handle facing away from the car. Once the Handybar is firmly in place, the handle provides hand support for the user. The handle can also provide support to those who tend to "plop" or fall into the seat when getting into the car. When not in use, the Handybar is easily removed by simply lifting up on the handle and removing it from the latch.
The Handybar is a convenient size that can fit into a purse, glove compartment or in a side pocket of a car door. It can be used on either the driver or passenger side of the vehicle, and is safe for individuals who weigh up to 350 pounds. The device comes with a few additional safety features: 1) The handle has a built-in seatbelt cutter and 2) the solid metal extender can be used to break glass. These features may be critical for safety in a car accident or other emergency.
The Handybar ranges from $20 to $45. Many online resources (including Amazon.com) sell the tool and large-chain retailers are also beginning to keep this device in stock.
The Handybar is just one of many tools available to help individuals who are having trouble with community mobility and driving. Local Area Agency on Aging and AARP centers, as well as occupational therapy programs in the community, offer information on additional devices that improve ease, safety and independence for driving through an educational program called CarFit. The program offers older adults the opportunity to check how well their personal vehicles "fit" them. To learn more about CarFit, visit www.car-fit.org.
If you or a loved one are having increased difficulty managing your daily activities, ask your doctor for a referral to occupational therapy. Occupational therapists can offer additional ideas, assistive devices and strategies that can help you keep your independence and stay safe.
Dr. Toto is board certified in gerontology and has more than 25 years of experience helping older adults maintain independence in their homes and communities. She can be reached at (412) 383-6620. To learn more about the University of Pittsburgh Department of Occupational Therapy, visit https://www.shrs.pitt.edu/OT.
By Pamela Toto, PhD, OTR/L Assistant Professor, Department of Occupational Therapy, University of Pittsburgh